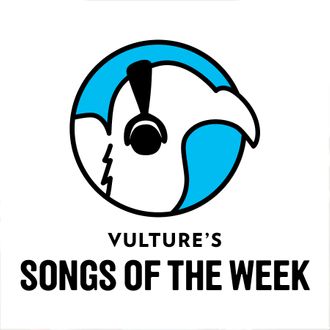 Every week Vulture highlights the best new music. If the song is worthy of your ears and attention, you will find it here. Read our picks below, share yours in the comments, and subscribe to the Vulture Playlist for a comprehensive guide to the year's best music.
Ariana Grande, "God Is a Woman"
While we can all agree "The Light Is Coming" was a dud — there is such a thing as straying too far from your wheelhouse, i.e. Pharrell's production tics aren't suited for everyone — "God Is a Woman" is Ariana Grande at her most Ariana Grande. It's a sampling from the Max Martin side of her new album (produced by one of his protégés, Ilya) that discovers new territory for the singer while simultaneously sticking to her guns. It's Ariana cooing, purring, and melisma-ing over a trap-pop track about the Biblical proportions of her sex game, which is nothing Ari hasn't said before (though the bigger talk here probably comes from having better sex). The difference here is Ari reconsidering her empowered sexual energy to represent a force that can't be contained within the bedroom. If she can break and bend a man at will with her body, what damage can her mind do to the fragile male ego convinced it rules this world? It's what brings us to the song's video, a reimagining of the highest being as woman where she plays God to topple the patriarchy here on Earth and beyond. Ariana has arrived at a cultural shift in her career where everything she does will be bigger than her going forward — bigger than pop itself, almost — and has greeted the moment with fearless gusto. —Dee Lockett (@Dee_Lockett)
Valee, "Allat"
This song is not even two minutes long, but it is close to perfect. Valee is a Chicago rapper signed to G.O.O.D. Music who always sounds like someone shoved a microphone in his face while he was in the process of waking up in the morning. But his rapping (now known forever as "sleepstyle") is endlessly compelling, straddling the line between purposefully laconic, and questioning if he even gives a shit. Except of course he does — "Allat" is endlessly repeatable and that's not an accident. Sam Hockley-Smith (@shockleysmith)
Father, "We Had a Deal"
If "Allat" floated your boat, then you'll probably also dig Father's "We Had a Deal," which, like "Allat," more or less feels like Father is whispering the entire song in your general vicinity. If it seems like I'm obsessed with "sounding like you don't care when of course you actually care" as a concept or even a launch point for an entire subgenre, it's true. "We Had a Deal" is another good entry in the subgenre (two in a week!), and offers a great opportunity to revisit Father's "Look at Wrist" which, at this point, is officially a classic. —SH-S
Chance the Rapper, "65th & Ingleside"
There's this age-old false narrative that fame must equate to wealth. Except popularity is a currency worth only so much when it fails to translate to value. Independent artists pay for nearly everything on their own dime; seeing a profit takes years, if you ever see it all. Chance the Rapper is committed to remaining unsigned, which also means he's committed to chasing the next paycheck however he can get it. (It's why he'll do Kit Kat commercials and take money from Apple.) Of course Chance isn't strapped for cash, but he is also not as rapper rich as he could be had he navigated this business another way. "65th & Ingleside," then, is an anthem of sorts for struggling rappers — the ones who struggle to make it in rap and force their loved ones to pick up the slack while they dream chase. It's also an extended apology to Chance's new fiancée, Kirsten Corley, one you don't hear too often from men.
Named after the Chicago intersection they used to live on together, at her sister's house, Chance admits he let Corley do the heavy lifting to support their daughter and life as a fractured family. He talks about taking advantage of the situation ("I was sleeping with you every single night / But I was still trying to act single right"); he talks about being wrong ("Fuck child support, you supported the kid"); and he talks about making it right ("Truth is I just really need your finger size / So I can make sure they make the ring so tight"). I don't know that marriage or an engagement ring has to be a woman's reward for ensuring her family's survival, but at least now Chance is commited to something other than himself. –DL
Wild Nothing, "Partners in Motion"
In the '80s, it was cool to go into a studio and make an album that was so … produced that it sounded like it was made in a vacuum. It became such an ubiquitous thing that any song that features processed guitar strums and a bass line that sounds like its been coated in jelly immediately evokes the '80s. The nice thing about it not being the '80s anymore is that with some distance there's a lot of greatness still to be had from a sound that wore itself out at the time. "Partners in Motion" nods to that era (there is, of course, a saxophone), but more than that, it feels like the most logical extension of Wild Nothing's dusky dream pop. The difference is, it used to sound like it was made in a small bedroom, and now it sounds like it came directly from an all-glass condo. —SH-S
Black Belt Eagle Scout, "Soft Stud"
Katherine Paul describes "Soft Stud," the first single from her very excellent debut album Mother of my Children as being "about the hardships of queer desire within an open relationship." It is also a six-minute ode to the music of the Pacific Northwest — Paul grew up on the Swinomish Indian Tribal Community reservation and currently lives in Portland, Oregon — you'll hear echoes of early Hole here, but you'll also hear a powerful new voice grappling with her heritage and her sense of place. "Soft Stud" is a great track, and the crazy part is that it's not even my favorite track on the album. —SH-S