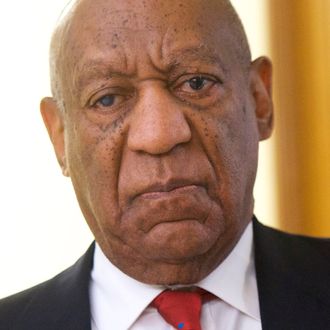 Photo: Mark Makela/Getty Images
Bill Cosby, who was found guilty of three counts of felony sexual assault, could be classified as a sexually violent predator, at least according to the advice of the Pennsylvania's Sexual Offenders Assessment Board. The new assessment of Cosby, who currently awaits sentencing under house arrest in his suburban Philadelphia home, reveals that the disgraced entertainer is considered a public risk. He may need to register as a sex offender and seek monthly treatment sessions if the judge in the case ultimately agrees with the assessment.
This morning, the Montgomery County District Attorney's Office requested a special hearing on the official assessment to determine whether the comedian will be officially classified as "sexually violent," something that could impact his sentencing in September depending on how the judge rules.
This official assessment of Cosby was completed after his April conviction on the drugging and sexual assault of former Temple University employee Andrea Constand. There's no word on when the judge may make his decision on this matter.
Under Pennsylvania state law, not everyone convicted of sex crimes is classified as being sexually violent — it depends on the details of the conviction. Factors the board likely considered in making its assessment of Cosby: whether there were multiple victims or a prior history of sexual assault, Cosby's relationship with Constand, the nature of their sexual contact, and whether Cosby went to great lengths to commit the offense (like using drugs or alcohol to impair his victim).
If Judge Steven O'Neill approves of the assessment and Cosby is registered as a sex offender, under Megan's Law he will need to follow a strict process of reporting for the duration of his life. In Pennsylvania, the former TV Dad will need to notify the 25 closest homes and businesses of his status and establish his ongoing compliance during quarterly check-ins with the state police.
Cosby, who fired his legal team this summer and replaced famed lead attorney Tom Mesereau with Joseph Green Jr., a Philadelphia-based defense attorney who specializes in sex crimes, is expected to be formally sentenced in September. Green could ask for a delay in the case after the recent change in Cosby's legal representation.
There's a minimum-sentencing requirement for charges of felony sexual assault in the state. Cosby could face up to ten years on each charge.