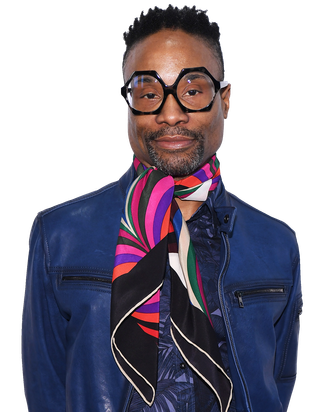 The role Billy Porter plays on Pose didn't exist when he first auditioned. He intended to try out as modern dance teacher Helena St. Rogers, knew he wasn't quite the right fit for that role (which ultimately went to Charlayne Woodard), but nevertheless convinced casting director Alexa L. Fogel that he should be involved in the show's ball scenes. Series co-creator Ryan Murphy agreed, and soon Porter was playing a brand-new character written specifically for him: the ball emcee Pray Tell, who also serves as a father figure for many in the scene.
In the first season of the FX series, which concludes Sunday night, Porter's performance is something truly special. During the balls, he lets his charisma loose, unleashing the booming voice that helped him win a Tony for Kinky Boots, but as the season has progressed, he's also gotten one of the show's most devastating plotlines, as Pray Tell must reckon with an HIV diagnosis. It's something that comes out, as Porter puts it, of being able to speak up for himself and of "dreaming of the impossible." "Pose is the impossible," he tells Vulture. "It's a magic quality to me. It wasn't even a thought because it wasn't there. That's the greatest gift that I've gotten from this experience."
We have to talk about the scene in last week's episode, where you sang "Home" in the hospital ward with MJ.
It took me back to the time that I lived through, that many of us lived through. It felt like a really hopeless thing at the time. Those of us who are artists really found ways to give back through our heart — I remember an organization called Hearts & Voices that was through the Broadway community — we would go into hospitals and do exactly what you saw us doing for AIDS ward. It made me very thankful that I've lived long enough to see this day. I've lived long enough to see this transition in our culture to be able to tell this story.
What do people who lived through that era think of the show?
I have a lot of friends who have been texting and calling, and crying and laughing. It's nice to go back and remember, and I'm re-bonding with a lot of people who I haven't seen or spoken to in a really long time. They're coming out of the woodwork. One friend actually said Pose helped him to move past the survivor's guilt he's been holding on to for decades. He said, "I don't feel guilty anymore," and thanked me for that.
The complexities of surviving AIDS come out in Pray Tell's character. He's the one who wants the children to get tested, but he has trouble confronting that it could be possible he is positive.
Not "could be possible," but was probably inevitable. That was the hardest part of that time. It was surprising if you weren't.
So, he tries to find some joy in at least still being alive.
That's what I did. That's all of us everywhere. We're not the only one with hardships. Do you choose to wallow, and give in, and give up? Or do you choose life? That's what this show is about — watching a group of people choosing life. Hopefully, that will be inspiring to somebody.
You moved to New York in the 1980s, right?
I started coming in the summer of '88. I moved officially in the original cast of Miss Saigon in 1990. That's who I was, you know? I am Ricky. I am Damon. I was those young black boys trying to figure out how to love each other in a world where nobody wanted you. The other side of the coin was the gang violence, and that whole thing. I was blessed because I could sing. I had a talent that could pull me out of it. Everybody doesn't have that.
Pose has really incredible music selections. To get Tina Turner in the latest episode…
You know, honey, when a network believes in you? They'll have the music that they'll spend their money on. Because she ain't the only one! You got Tina Turner, you got Janet Jackson, you got Diana Ross, you got Whitney Houston. Those songs are not cheap, honey.
Was there any song you knew the show had to have?
There was "I'm Coming Out," Diana Ross. When they filmed that, they didn't have the rights. They were like, We want that, but we don't have the rights, so just dance to something. They gave us something that was similar in beat.
What was it like to hear that Pose got a second season? I was worried it might end up as a cult one-season wonder.
As a person who's been around and takes nothing for granted, I was feeling very similar to you. It's the kind of thing that people have to find, because we're not the only group of people whose stories are being told that no one has ever seen before. Toddlers & Tiaras, or Honey Boo-Boo, or those people with all those beards shooting — what is that show?
Duck Dynasty?
Who the fuck knows about that? Or cares about it? It's the kind of thing where you don't know that you care about it until you see it. It's sort of like Apple — you don't know what you need until they create it. That's a property that our show has. You buy in to something you've never seen before. Hopefully, that will snowball.
"Love Is the Message" also marks the first time Janet Mock directed an episode. What was it like working with her on it?
She's a natural, and she is such a trailblazer. We're very kindred spirits in that, early on in both of our lives, we understood that the thing that was going to cut through was being educated, and being present, and being fearless. I tease her because she puts on her grown lady boots. She has a little Cha Cha heel boot when she feels like she needs to come authoritative. She was amazing. I'm so happy for her, and so proud of her.
Having lived through the era that Pose depicts, did you give any advice to the younger cast members?
Well, they are consummate professionals so everybody came with their research done. When you're in the middle of something, it's hard to understand, but it's been interesting to watch them really take it in.
For me, as a 48-year-old gay man, when I came out, we had to fight for our lives. Because the fight was so intense — and this is what this show has taught me — the T in LGBTQ was almost invisible. The fight was about something else. I equate it to the idea of the civil rights movement, and Martin Luther King Jr. and his relationship with Bayard Rustin. He was the gay man that taught him and set him up to be the civil rights leader that he was, and was erased from the conversation because that wasn't the fight.
I think there's a little bit of that — no, let me just say it — there's a lot of that in the gay culture, especially the cisgender, white, rich gay culture. I sat on the board of the Empire State Pride Agenda for six years, and that's an organization that really was influential in lobbying and fighting for gay rights, during the AIDS crisis all the way up through marriage equality. When these white, cisgender, rich boys got marriage equality and the organization's focus turned to transgender rights, those motherfuckers closed their checkbooks, and the organization of 25 years had to close. We need take all that energy and focus, and shift it on to those who are less than us. That's how it works. Internal vigilance is the price of liberty.
It is almost a respectability thing. In order for white, cisgender guys to get married, they distance themselves from the rest of the queer community.
It's no tea, no shade. We learn. When we know better, we do better. Now y'all know better, let's see what happens.
That's the thing about this show for me. I'm learning so much about the transgender community. I mean, you think it's hard for a gay boy. I've learned so about what it takes every single day. One of the scenes that really blew me away in the first couple of episodes is when Angel tried to get a job spritzing perfume. You motherfuckers can't even let me spritz perfume? You can't even get a job, so then where do you go? If we don't take care of the least among us, it doesn't matter how rich we are, it doesn't matter how fabulous we are. It doesn't matter. If you're neglecting your citizens, you are inhumane. The end.