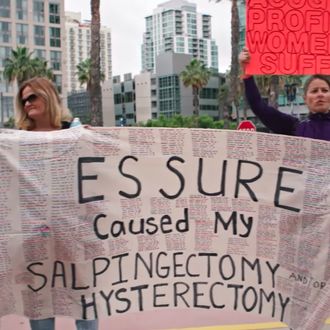 Next week Netflix is set to debut the documentary The Bleeding Edge from the directing and producing team behind The Hunting Ground and The Invisible War, Kirby Dick and Amy Ziering. The film examines the darker side of the medical technology industry, and follows patients and activists pushing for safer medical devices. One such device is the birth control Essure, a metal coil used by women as an alternative to tubal litigation. The device has been controversial for years due to women's reports of pain and a myriad of alleged medical issues, including potential damage to the fallopian tubes and uterus. Now, ahead of The Bleeding Edge's release on July 27, Essure's manufacturer Bayer has decided to pull the product from the United States market entirely by the end of the year.
In a statement issued by Netflix, Dick and Ziering praised Bayer's decision as a "a gratifying affirmation of the power of documentary." Said Dick, "This is exactly why we do this work: This film has already changed policies and changed history." While Bayer has not publicly acknowledged a direct correlation between the decision and the film's impending release, the push to pull Essure is not a new one. "Seven long years of fighting to get Essure off the market has finally paid off," patient advocate Angie Firmalino said as part of Netflix's release on the decision. "Not one more woman will be harmed by this device. We have won, we have finally won."
On Friday, Bayer said Essure's removal was a "business decision" based on declining sales. The pharmaceutical company has maintained the FDA-approved product is safe for use. According to the Washington Post, the United States was the last country where Essure was being sold. The product had already previously been pulled from shelves in Canada, Finland, the Netherlands and the United Kingdom.