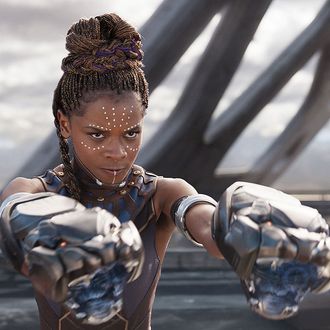 Letitia Wright as Shuri.
Photo: ©Marvel Studios 2018
If you can't wait to see more of Black Panther's Shuri in the Marvel Cinematic Universe, you're going to have to wait a while. But if you want to see her on the page, you only have to wait for October. Bustle reports that Marvel Comics will release a spinoff book series focusing on the mind behind the tech in Wakanda, as she struggles to take the reigns of her kingdom after her brother goes missing — in space! The official synopsis provided to Bustle says, "Shuri is happiest in a lab, surrounded by gadgets of her own creation. She'd rather be testing gauntlets than throwing them. But a nation without a leader is a vulnerable one — and Shuri may have to choose between Wakanda's welfare and her own."
The comic comes from artist Leonardo Romero and Nigerian-American author Nnedi Okorafor, the latter of which recently had her novel, Who Fears Death, optioned for development by George R.R. Martin and HBO. Okorafor also previously contributed to Ta-Nehisi Coates's comic Black Panther: Long Live The King as well as the Wakanda Forever series.