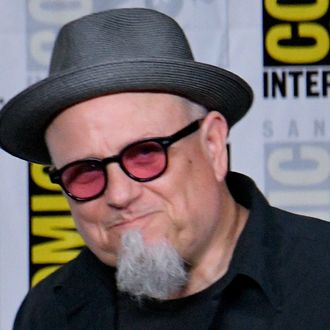 Bobcat Goldthwait.
Photo: Mike Coppola/Getty Images
Stand-up comic turned director Bobcat Goldthwait has being doing some thinking since Disney fired Guardians of the Galaxy director James Gunn for past tweets joking about rape and pedophilia. To save someone the time and effort of sorting through his comedy routines for something disgusting, the Hercules voice actor suggests the brand preemptively remove his voice from their content now. "I love @jamesgunn. He's a loyal friend, super talented, passionate and kind. I wanted to say something, here it is," Goldthwait wrote on Instagram. "Dear @disney I would hate for you to come off as hypocritical so I'm suggesting that you remove my voice from an attraction that's coming to your park. It's called WORLD OF COLOR - VILLAINOUS, and I reprise the role of Pain, a role I played in HERCULES."
Since Gunn's dismissal on Friday from Guardians of the Galaxy Vol. 3, the director's cast members and at least 232,000 of his fans have shown their support. Continued Goldthwait, "You see here's the deal, years ago I made a lot of sarcastically shocking and offensive jokes. Many that I'm embarrassed about now, and I'd hate to make you guys look bad seeing that I'm openly critical of the president and his administration, and you seem to be taking your lead from some of his radical fringe supporters." Alt-right social media personality and Pizzagate conspiracy theorist Mike Cernovich is credited with unearthing Gunn's offensive jokes. "I think James Woods may have recorded a voice for this new attraction, too. Why not check out some of his whacky past tweets?!," added Goldthwait. You can read the Monsters & Misfits creator's full post below.