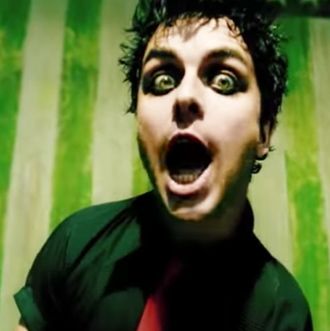 Well would you look at that.
Photo: Youtube/Green Day
Later this week, Donald Trump will pay a presidential visit to British prime minister Theresa May in the U.K. Prior to the scheduled visit, he reportedly requested that May block all protests of his arrival, which May is said to have told him would be impossible. Now a social-media campaign has launched pleading Brits to troll Trump (and British politician Nigel Farage) by getting Green Day's "American Idiot" to No. 1 on the U.K. charts by the time Trump gets there. Its inspired slogan: Make American Idiot Great Again. As of Saturday, "American Idiot" has shot back up to the Top 10 on Britain's iTunes and Amazon charts; on Monday, Chart Data reported that it has reentered the Top 20 on Britain's official singles chart midway through the charting week, with just a few days to go until Trump touches down on British soil. You'll recall that "American Idiot" was a rallying cry that blasted the George W. Bush era, though it's applicable to all future American idiots. Now can you hear the sound of hysteria?!