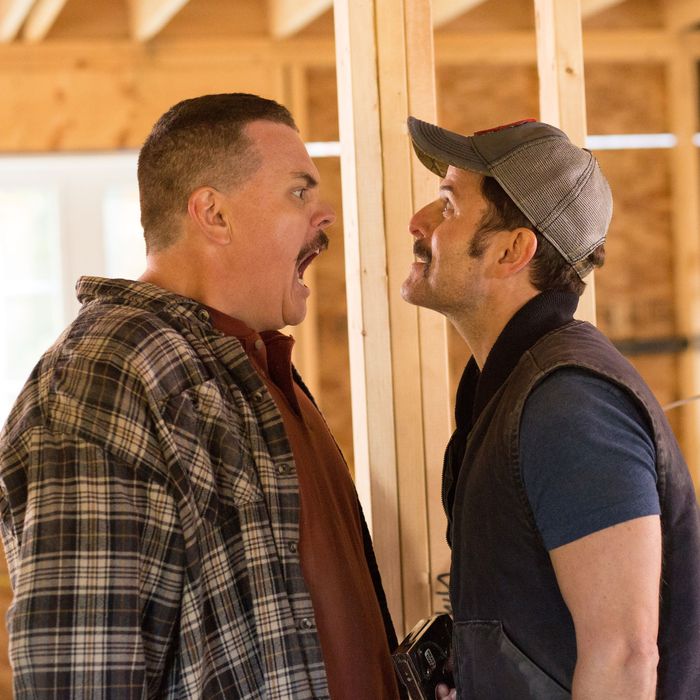 Super Troopers 2
Photo: Jon Pack/Twentieth Century Fox Film Corporation.
At a raucous engagement at San Diego's Horton Grand Theatre Saturday, the comedy troupe Broken Lizard used San Diego Comic-Con to basically take its victory lap, basking in the unlikely financial success of their raunchy comedy Super Troopers 2. But they also took the opportunity late in the panel to confirm the title and a few tantalizing details about a third installment of what they jokingly called their cinematic "universe."
"We are writing Super Troopers 3: Winter Soldiers right now," said Jay Chandrasekhar, the de facto Lizard leader who has directed and starred in most of the group's films. Asked if that was an upcoming movie's actual title — something they've joked since, ahem, 4/20 of this year and not exactly a given considering the rapid-fire comic banter that characterizes the comedians off screen — Chandrasekhar shrugged and said, "Yeah."
Announced as something of a lark at the 2006 SDCC, the first sequel to 2001's cult hit Super Troopers — which follows a group of adu-lescent Vermont state troopers partial to stupid pranks and chugging maple syrup — languished in development hell with studio distributor Fox Searchlight refusing to green light a sequel until the Broken Lizard band of beer and bong-loving bros — Jay Chandrasekhar, Steve Lemme, Paul Sofer, Kevin Heffernan and Erik Stolhanske — raised seed money for the film themselves. In 2015, inspired by the Kickstarter campaign that brought a Veronica Mars movie to fruition, the comedians famously launched an Indiegogo crowd-sourcing campaign. And within 26 hours of the funding window being opened, they had raised $2 million (the campaign raised $4.7 million in all).
Super Troopers 2 went on to take in over $30 million domestically. But as the comedians tell it, they were sweating its financial failure until the moment the movie reached theaters. "We were all at the bar the night before lamenting it wasn't going to perform the next day," Lemme recalls.
Added Chandrasekhar: "I was talking a to someone at our agency. He said, 'You did your best.' "
On the panel, after taking a trip down memory lane — specifically, recalling the time Heffernan drank until the point of nearly vomiting at the Troopers 2 wrap party, that time the five of them smoked so much marijuana with Snoop Dogg that the Broken Lizard members were rendered temporarily speechless and Chandrasekhar's occasional habit of directing scenes with his tiny white Bichon frise/poodle mix under his arm — conversation circled around to the reality of a Super Troopers 3: Winter Soldiers.
"To call it that even if it's not in the winter — that's ballsy," said Soter.
"That's the compromise: we'll call it Winter Soldiers but shoot it in the summer," joked Lemme.
Unlike the last Troopers installment, however, Chandrasekhar was insistent the next will not rely on the kindness of hundreds of strangers and their donations. "I don't think we will crowd fund the next one," he said. "We needed a favor from our fans on the last one. They delivered. I don't know that we need to make them pay for the next one."