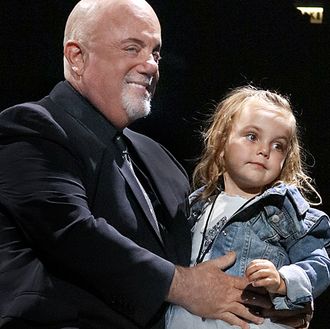 Billy Joel performs with his daughter Della Rose Joel.
Photo: Myrna M. Suarez/WireImage
There are very few things in this world that can make the collective dads of America happy, and two of those things are Billy Joel and Bruce Springsteen. So, you can imagine their joy when Springsteen paid a surprise visit to Billy Joel's 100th show at Madison Square Garden on Wednesday night, as the Associated Press reports. The Boss surprised the crowd by joining Joel onstage for a duet, guitar and all, in celebration of the fact that no one has performed at the Garden more than The Piano Man. And when their song was done, Springsteen kissed Joel on the head and disappeared into the night from whence he came, leaving the world's dads with nothing but a smile on their face, a tear in their eye, and a story they'll tell you once a week until Christmas.