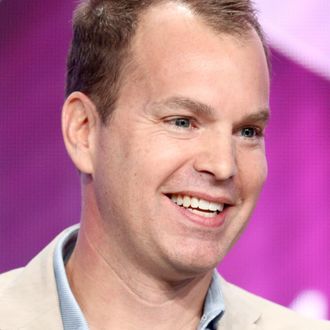 Casey Bloys
Photo: Frederick M. Brown/Getty Images
HBO's president of programming Casey Bloys came to his session at the summer Television Critics Association press tour in Beverly Hills armed with optimism about the future of the premium network, now that AT&T has purchased it from Time Warner.
The future of the network has been hotly debated since details of a company town hall meeting earlier this month were published in the New York Times, highlighting comments made by John Stankey, who now oversees HBO as the chief executive of Warner Media. At the session, attended by 150 employees and simulcast to several offices, Stankey said he wanted HBO to compete more in the TV landscape with more "hours a day" as opposed to "hours a week…and hours a month."
Bloys said his boss Richard Plepler has often spoken internally and publicly about the need for more financial investment in programming and they both view Stankey's assessment as a step in the right direction.
"Let me put this as clearly as I can: there are no plans to dilute the HBO brand in favor of volume of programming," Bloys said. "No one has come to us and asked us not to do what we do. John and AT&T have been every complimentary about what we do … One of the challenges we've had in the past couple of years working for Time Warner … we were at a corporate entity that was preparing itself for sale as opposed to investing in programming. So this is the first time in a long time we've heard anyone talk about investing in programming. So I took that as very exciting. No one has talked about diluting our brand or increasing the volume to a point where we lose quality control."
Bloys said he empathizes with HBO employees, who might be anxious about the changes, but he's confident that HBO's brand will remain intact. "I'm just glad I can be here to tell you there are no plans to dilute programming, no one is asking us to take pitches of the Love Boat reboot or anything like that," he said.