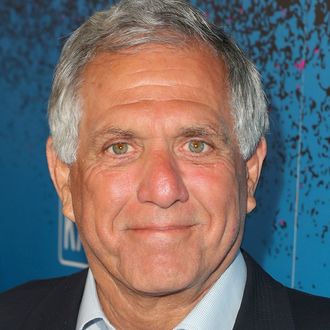 Les Moonves.
Photo: Joe Scarnici/Getty Images for Apple
On Friday, Ronan Farrow published a New Yorker report detailing sexual-harassment claims against CBS CEO and chairman Les Moonves by six women. They allege Moonves forcibly kissed and touched them in the workplace and, in some cases, retaliated against them professionally for rejecting his advances. Now, the CBS board of directors reportedly plans to discuss Moonves's role at CBS on Monday at a regularly scheduled meeting. According to the New York Times, at least two members of CBS Corporation's 14-person board have doubts as to whether Moonves should retain his position at the network during a previously announced internal investigation into the harassment claims, or should step aside while a temporary leader fills in.
Farrow's report not only took Moonves to task personally, but claims CBS culture is more broadly toxic, exemplified by the alleged retention and promotion of male employees despite multiple accusations of harassment against them. Writer and producer Dinah Kirgo, one of the six women who said Moonves harassed her, told NPR's All Things Considered on Sunday that her decision to come forward was fueled by hope for a sea change. "People think that we're trying to take these guys down, and that is, at least in my case, that is so not true," said Kirgo. "It's about stopping this behavior."
In response to Friday's allegations, Moonves said in a statement that "there were times decades ago when I may have made some women uncomfortable by making advances," but ultimately "I always understood and respected — and abided by the principle — that 'no' means 'no,' and I have never misused my position to harm or hinder anyone's career."
Update, July 30: In a press release obtained by Vulture, CBS's Board of Directors announced that they're in the process of "selecting outside counsel to conduct an independent investigation" into Moonves' behavior. Besides that, "no other action" regarding Moonves was taken at today's board meeting.