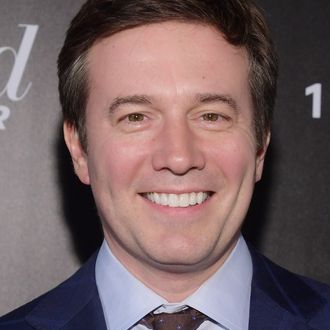 Jeff Glor.
Photo: Ben Gabbe/Getty Images
It's the battle of the Trump interviews: former CNN host (and "friend of Trump") Piers Morgan vs. CBS Evening News anchor Jeff Glor. On Friday, Morgan, a brash British television personality, announced his exclusive 30-minute interview with Trump aboard Air Force One, which airs Sunday morning on ITV's Good Morning Britain. But not so fast, Morgan. You're not the only newsperson who scored an interview with Trump over the weekend. On Saturday, sometime before or after getting his cardio in, Trump spoke with CBS Evening News newcomer Jeff Glor at his golf resort in Turnberry, Scotland. An excerpt of the interview — in which Trump dressed casually in a navy suit, sans tie, and his second favorite baseball cap with "USA" stitched on it instead of MAGA — airs on Sunday morning's Face the Nation with extended clips airing Monday on CBS This Morning and Glor's evening show. CBS also reported that Glor will conduct a follow-up interview with Trump midweek at the White House, which will air that same night on the CBS Evening News at 6:30 p.m on July 18.
As Trump hasn't sat down with an evening news anchor in over a year — remember Lester Holt's revealing interview on NBC last May? — these interviews are sure to uncover some notable (albeit terrifying) soundbites. But, which taped interview will Trump deem "fake news"? Tune in Sunday — ahead of his Monday meeting with Russian President Vladimir Putin — to find out.