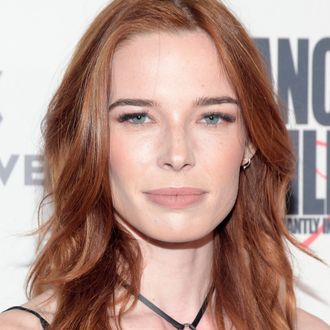 Chloe Dykstra.
Photo: Michael Tullberg/Getty Images
Chloe Dykstra has spoken out for the first time since her ex-boyfriend Chris Hardwick was reinstated by AMC as the host of Talking Dead. The network had launched an investigation of him after Dykstra penned an essay, which did not mention Hardwick by name, detailing her claims of alleged emotional and sexual abuse in their relationship. In a statement posted to Twitter, Dykstra says that she did not participate in AMC's investigation of Hardwick and states she simply wishes to move on with her life. Read her full statement below:
I have been adamant since I came forward with my essay that I never set out to ruin the career of the person I spoke about. I could have provided more details, but chose not to. I have said what I wanted to say on the matter, and I wish to move on with my life. For that reason, I chose not to participate in the investigation against the person I spoke of. I do not believe in an eye for an eye, and therefore I have only shared my evidence with those who I felt should see it.




What I wanted was for the people around me who heard a false narrative–one that was created to hurt me and my career–to know the truth. More importantly though, I know how insidious emotional abuse is and felt compelled to share my story so others might not feel so alone.




Regarding closure, I wish I had been able to have had a private conversation with the person I spoke about in my essay. Reaching out to him over text made me vulnerable, and ultimately ended up in a tabloid article where said texts were chopped up and spun to discredit me.




With the circus moving out of town, I intend to focus on the subject I originally wanted to shed light on: emotional abuse. I plan to continue this conversation and intend to work with institutions like RAINN and other support groups for survivors.




I hope that the hatred, the name calling, the death threats can go away and we can return to productive discourse. My love to everyone.