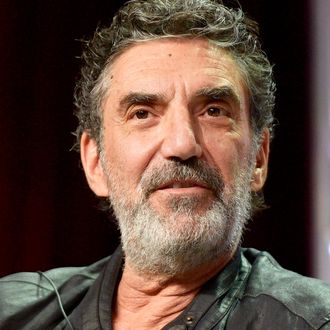 Chuck Lorre.
Photo: Matt Winkelmeyer/Getty Images for Netflix
Chuck Lorre, the man behind CBS hits The Big Bang Theory, Two and a Half Men, and Young Sheldon, is avoiding commenting directly on the recently reported allegations against CBS chief Les Moonves, though he did speak to the importance of a harassment-free work environment. After a Television Critics Association panel yesterday to promote his new Netflix series The Kominsky Method on Sunday, Lorre faced questions about Moonves, which he declined to discuss directly, but did say: "I do think it's important to have a safe work environment. I've been in some unsafe environments in television and you can read about them. You can't do good work in an unsafe environment, and it had to be made safe for everyone. Why would anyone want to go to work in an environment that's not nurturing? You certainly can't do comedy if you're frightened, and you certainly can't do good work if the environment doesn't support you and look after your best interests."
Lorre has worked on several contentious shows, including the famously tumultuous first run of Roseanne and on Two and a Half Men with Charlie Sheen. Six women accused Moonves of sexual harassment, while many others described a culture of harassment at CBS to The New Yorker. Moonves has denied these claims and insisted that the company "promoted a culture of respect and opportunity for all employees." CBS is investigating Moonves, and its board is expected to discuss his standing as chairman this Monday.