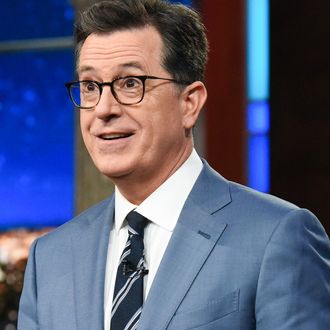 Colbert.
Photo: CBS via Getty Images
Donald Trump continues to be very, very good for Stephen Colbert. His politics-heavy Late Show notched its biggest-ever spring audience during the second quarter of 2018, while continuing to inch closer to dethroning Jimmy Fallon and The Tonight Show in the advertiser-coveted demo of viewers under 50.
Per Nielsen's so-called live plus 7-day ratings, which include delayed viewing, the CBS talker drew an average audience of 3.63 million viewers during the April through June measurement period, up 5 percent from the same period in 2017. Late Show continued to pull ahead of the yak pack, finishing far ahead of rivals The Tonight Show Starring Jimmy Fallon (2.41 million, down 15 percent versus last year) and Jimmy Kimmel Live (2.10 million, down one percent). Colbert finishing first in overall audience really isn't news anymore, since Late Show has held on to the top spot in late-night since Trump took office 18 months ago. What's more notable — and potentially worrisome for NBC — is how tight the battle for younger viewers has become.
CBS's press release touting the second-quarter numbers claims Late Show and Tonight, for the first time ever, ended in a dead heat among adults under 50, with both shows earning a 0.5 rating in the live plus 7-day ratings. The network said it's the second time Colbert has managed to tie Fallon for a quarter in the key metric since launching his show in September 2015 (the last time was the summer of 2017). NBC ratings research, however, takes issue with the Eye's release. Through a publicity rep, the network noted Fallon actually edged Colbert, albeit just barely (0.55 versus 0.53, which would round out to a 0.6 for Fallon and a 0.5 for Colbert). NBC also points out that in same-day ratings, Fallon is still the demo champ, outpacing Colbert by a slightly larger margin (0.56 versus 0.48).
Advertisers tend to value viewers who watch a show the day it airs rather than those who catch up later, so in theory, there's a monetary advantage to Fallon winning the same-day battle by about one-tenth of a rating point. Still, in terms of pop-culture relevance, delayed viewership is arguably a better metric of success. It's also telling that a significant number of viewers are watching a topical talk show days after it first airs, hinting that Colbert's audience is actively seeking out the show (rather than just staying tuned after the local news). And finally, the fact that claims of late-night supremacy are being argued over what's essentially a few thousand viewers is a clear sign that Fallon's days of demo dominance are over — at least for now.