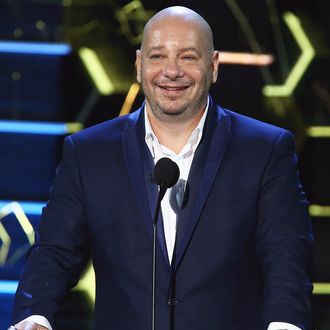 Jeff Ross attends the Comedy Central
Roast of Bruce Willis.
Photo: Tommaso Boddi/WireImage
Comedy Central recently revealed the premiere dates and lineups for two returning shows: Roast Battle and Kevin Hart Presents: The Next Level. First up is the third season of Roast Battle, which debuts Tuesday, July 31 at 10 p.m., with a sneak peek set to air after the Bruce Willis roast on July 29 at midnight. Nikki Glaser, Anthony Jeselnik, and Jeff Ross will serve as judges for the new season, which will include appearances from the comedians below:
• Todd Barry

• Pat Barker

• Nicole Becannon

• Matthew Broussard

• Keith Carey

• Kim Congdon

• Alex Duong

• Joe Eurell

• Olivia Grace

• Blake Griffin

• Tony Hinchcliffe

• Jerron Horton

• Mike Lawrence

• Joe List

• Joe Machi

• Kurt Metzger

• Connor McSpadden

• Sam Morril

• Jamar Neighbors

• Mark Normand

• Eli Sairs

• Yamaneika Saunders

• Jason Sklar

• Randy Sklar

• Sarah Tiana

• Sarah Tollemache

• Robin Tran

• Brendon Walsh

• Dolph Ziggler
The Roast Battle lineup notably includes Kurt Metzger, who recently made headlines for being hired as a writer on Sacha Baron Cohen's Who Is America? despite defending an Upright Citizens Brigade comedian accused of rape by multiple women through a series of Facebook posts in in 2016 and his history of harassing women online.
The second season of Kevin Hart's stand-up showcase series The Next Level, meanwhile, premieres Friday, August 3 at 11 p.m. and will feature six up-and-coming comedians in their own half-hour specials. Here's the full lineup:
• August 3: T. Murph

• August 10: Tacarra Williams

• August 17: Malik S.

• August 24: Jeff Horste

• August 31: Ron G.

• September 7: Marvin Hunter
In the meantime, here's a clip from the Bruce Willis roast airing this weekend: