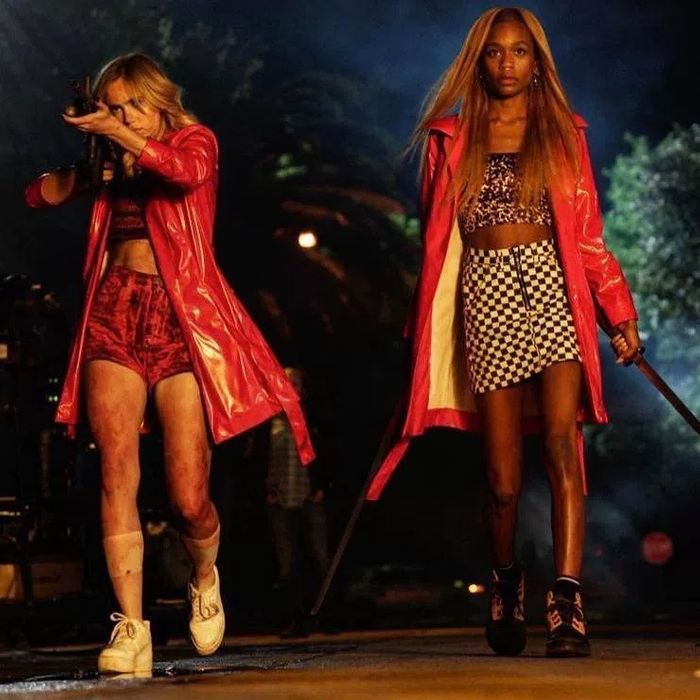 Odessa Young and Abra in Assassination Nation
To judge by its trailer alone, Assassination Nation (which hits theaters Sept. 21) promises a jolt of uncut teensploitation. The ultra-violent, darkly satiric horror-thriller is plotted around bullying, toxic masculinity, drug use, transphobia, homophobia, guns, kidnapping, sexism, and giant frogs (according to title cards in the movie's new red band clip). It follows a quartet of high school besties who watch their hometown "lose its motherfucking mind" — turning on one another and taking to the streets with high-caliber machine guns and samurai swords — after a malicious hacker releases the residents' most private of private information and frames our heroines for the crime.
At a sparsely attended panel at San Diego Comic-Con on Thursday, however, the film's writer-director Sam Levinson, producer Joe Russo, and cast members Bill Skarsgård, Suki Waterhouse, and Hari Nef attempted to raise a different awareness for Assassination Nation. They wanted the audience to know it is more than what Movie Twitter has taken to calling "the Teen Purge." In essence their message boiled down to: Yes, the movie is trying to fuck with you. Yes, it is bound to generate controversy. But please understand the film's deliberate provocations are part of an effort to heal our country's divisions and get people to love one another.
"Not to get too philosophical with it, but the film is a criticism of ideology," says Levinson, the son of Oscar-winning Rain Man filmmaker Barry Levinson. "It's a movie that's critical of righteousness, of people who are certain they're right. That's scary. That's a horror film. This film is about debate and discourse and how we treat one another. Our level of empathy for one another. No matter who you are or what your background is, whatever our political leanings are, it's about understanding one another."
Which is all another way of saying that even if you think you've got Assassination Nation tonally pegged, you probably don't. "I feel like people assume because it focuses on these four girls, it's neo-liberal, feminist, la di da di da," says Nef. "There are aspects of that. But nobody is safe in this movie. Everybody is getting dragged! My character, for instance, one second she's espousing these high-minded, social justice warrior beliefs. And then the next minute she's tearing down some other guy using homophobic slurs. There's no infallible political message to this. Because there's no infallible political message in America. Nobody's listening to one another. I think [the movie] is important."
Added Skarsgård: "I don't think I've ever worked on a project before where I'm so excited to see the response to it. It's almost like the movie is a mirror to the internet and the internet has not yet seen it."
Not that you would have been able to glean Assassination Nation's high-minded ideals or ambitions from the footage shown at Comic-Con. A jarring sequence that takes place after the hacker has framed co-star Odessa Young for flooding the internet with the townsfolks' compromising photographs, private texts, and browsing histories, it showcases a long tracking shot that follows the girls throughout a house, moving from room to room while a throng of masked gunmen attempt to break in through various windows and doors. The scene culminates with a terrifying abduction — and a murder.
After premiering at the Sundance Film Festival in January, the film got snapped up in a $10 million joint acquisition deal by Neon and AGBO, the new studio established by Joe and Anthony Russo — better known as the Russo brothers, the co-directors of such blockbusters as Avengers: Infinity War and Captain America: Civil War. For his part, Russo explained he and his brother came up through the indie film world with Steven Soderbergh as their earliest champion, and felt they owed "a karmic debt to the universe to foster and support amazing voices that are working in filmmaking." Releasing Assassination Nation is, in part, a repayment of that debt.
"I saw this film and was blown away," Russo said. "It feels like a new generation of filmmaking. It's very unique. It's a very bold movie, it's a thoughtful movie. It's got an incredible narrative. It's intense. It's fun to watch at times, it's really really hard to watch at other times. It's complicated. And it feels very of this generation."
He added: "I do think it's going to be one of the most talked-about films of the year. Because there are issues in it that need to be talked about."