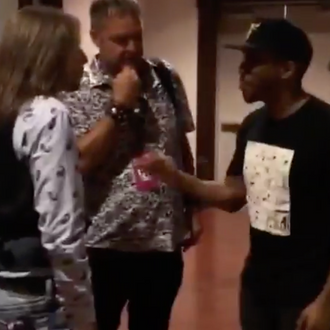 Photo: Amanda Seales/Instagram
Each year, Variety selects ten of the best stand-up comedians in the country to showcase as Variety's 10 Comics to Watch. Among those chosen this year were Insecure's Amanda Seales, The Daily Show's Dulcé Sloan, and American Vandal writer Jaboukie Young-White. And then there was Darren Knight. Knight's credits include a series of YouTube and Facebook videos of a character called "Southern Momma" and a documentary about himself called Southern Momma: The Darren Knight Story, in which he is billed as "the fastest rising comedian in American history."
The trouble seemed to begin even before the show started. Seales said in a statement to Vulture that Knight antagonized both her and Sloan while they were waiting for the preshow panel to begin, and then continued to do so during the panel. When Seales spoke of using her comedy to challenge racism and sexism, "he said, 'comedy shouldn't be about attacking racists. That is ostracizing your audience.' "
Things got more tense when Knight took the stage at the actual show, with his opening joke reportedly being "To our wives and girlfriends, may they never meet." (If that sounds familiar, it's because it's commonly attributed to Groucho Marx.) According to the reaction on Twitter, things did not improve from there. "Darren Knight's set at @justforlaughs tonight led me to apologize to everyone around me that not all of us (Southern guys) are idiots," tweeted one audience member. "Dude forgets the name of the festival HE'S PERFORMING AT, makes diarrhea 'jokes', & then insults minorities."
Other attendees tweeted similar sentiments about Knight's performance, which he chose to end with a mini-lecture on how comedy should not be about sexism or race, because that's not what the audience wants. The audience booed him off. According to Seales, Knight also commented "Looking good, Precious" to Sloan as he exited the stage. Sloan tweeted about this exchange afterward.
The host of the show, Saturday Night Live's Chris Redd, confronted Knight after the show, which is documented in a series of videos Seales posted to her Instagram Stories. In the videos, Redd can be seen having a heated conversation with Knight, who then storms off as Redd calls after him, "Real comics write real jokes!" The entire exchange can be viewed below.
Knight's performance and treatment of his fellow performers aside, it's also unclear why someone known for making videos on social media, and not stand-up jokes, was selected for one of the world's most prominent stand-up comedy shows in the first place.
Seales has an idea, though. "This speaks to a larger narrative about the misplaced pressure to include voices from the Trump right in spaces simply to appease a demographic that is problematic and damaging to the upward advancement of larger society," she said, pointing to posts on Knight's Facebook critical of Maxine Waters, Roseanne's cancellation, and the existence of BET. Redd, for his part, declined to comment for this article, but summed up his thoughts on Twitter.
Since the show, tons of comedians have commented on Knight's performance, or Variety choosing to feature him, on Twitter:
We've reached out to Knight's reps for comment and will update if we hear back.
Update: Knight posted the below statement to his personal Facebook page over the weekend:
Let me be very very clear.. I will NEVER let anything or anyone come between me an my beliefs. I will stand for what I believe in and will not falter. I'm not perfect by no means but I be damned if I will be lied about etc. Dont believe everything you read about me cause haters are legit these days folks!