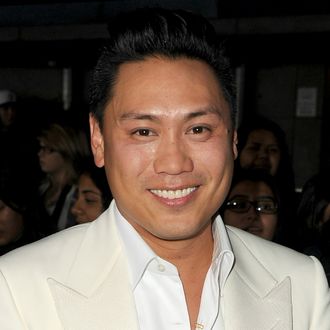 Jon M. Chu.
Photo: Kevin Winter/Getty Images
Ah, yup, director Jon M. Chu can see where this is going. First, Pure Flix Entertainment, producers of the God's Not Dead film series, announces their plan to turn the harrowing tale of the Thai cave rescue into an "inspirational," though not necessarily religious, movie. Next thing you know, the main characters are somehow a reporter and a Navy Seal played by Scarlett Johansson and another, potentially CGI Scarlett Johansson. At least, that's what Crazy Rich Asians director Chu fears, which is why he announced his intention to make his own film based on the recent saga that found a boys' soccer team trapped inside a flooded cave for over two weeks.
"I refuse to let Hollywood #whitewashout the Thai Cave rescue story! No way. Not on our watch," Chu said on Twitter Wednesday. "That won't happen or we'll give them hell. There's a beautiful story abt human beings saving other human beings. So anyone thinking abt the story better approach it right & respectfully."
Retweeting Variety's report of his plans for a competing film, reportedly in development with Ivanhoe Pictures, Chu added, "Its a bit early 2truly discuss but the biggest lesson I learned frm making #CrazyRichAsians is that we must tell our stories especially the important ones so history doesnt get it wrong. This one is too important 2 let others dictate who the real heroes are." Wrote the reported In the Heights director, "Why did it take me 38 years to realize … we can fight back."
All 12 members of the Wild Boars youth soccer team and their 25-year-old coach were finally rescued earlier this week after spending over two weeks trapped underground in the Tham Luang Nang Non cave system. Thai Navy SEAL diver Saman Kunan died during the rescue effort.