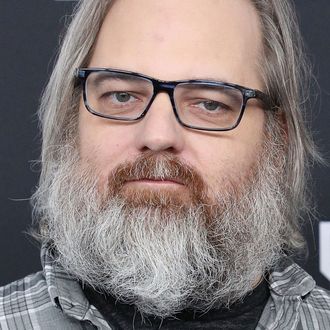 Dan Harmon.
Photo: Taylor Hill/FilmMagic
After getting James Gunn fired by Disney over old offensive tweets, far-right internet figure and Pizzagate conspiracy theorist Mike Cernovich and his supporters shifted their focus to comedians over the weekend. Cernovich and his fans resurfaced older tweets containing offensive jokes about taboo topics like child rape and molestation from comedians including Anthony Jeselnik, Michael Ian Black, Sarah Silverman, and Patton Oswalt. The tweets from Oswalt, in particular, were from a series of two-part tweets he wrote in 2013 about the importance of context, which were, well, taken out of context. Jeselnik, for his part, seems pretty unfazed by the whole thing:
Michael Ian Black offered a more sincere response:
The most recent comedian to come under fire for old content is Rick and Morty co-creator Dan Harmon, whose 2009 pilot for Channel 101, Daryl, was resurfaced online. According to the Guardian, users on 4Chan and The_Donald subreddit resurfaced the video for containing child-rape jokes, including scenes of Harmon pretending to rape a baby doll. One 4Chan user said, referring to ABC canceling Roseanne Barr's show, "If they get to take scalps for someone making racist jokes, we get to take scalps for them making pedophilia joke." By Sunday afternoon, Harmon had deactivated his Twitter account, and yesterday he released a statement about the resurfaced video:
In 2009, I made a "pilot" which strove to parody the series Dexter and only succeeded in offending. I quickly realized the content was way too distasteful and took the video down immediately. Nobody should ever have to see what you saw and for that, I sincerely apologize.
Adult Swim also released a statement distancing themselves from Harmon, saying "there is no place for this type of content here at Adult Swim." (The network green-lit alt-right show Million Dollar Extreme: World Peace in 2016, which it ultimately canceled in December 2016 not long after Brett Gelman severed ties with the network.)
At Adult Swim, we seek out and encourage creative freedom and look to push the envelope in many ways, particularly around comedy. The offensive content of Dan's 2009 video that recently surfaced demonstrates poor judgement and does not reflect the type of content we seek out. Dan recognized his mistake at the time and has apologized. He understands there is no place for this type of content here at Adult Swim.
Earlier this year, Harmon was accused of sexual harassment by former Community writer Megan Ganz, who wrote on Twitter, "It took me years to believe in my talents again, to trust a boss when he complimented me and not cringe when he asked for my number. I was afraid to be enthusiastic, knowing it might be turned against me later." Harmon later delivered a lengthy apology on his podcast for his "flirty," "creepy," "unprofessional" behavior.