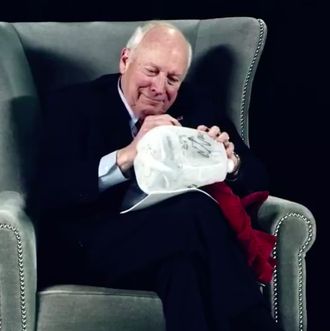 Dick Cheney on Who Is America?
Ahead of Dick Cheney's appearance on Sacha Baron Cohen's Who Is America?, in which the former vice president under George W. Bush apparently picks a favorite from all the wars he personally had a hand in, the Showtime series has put the waterboarding kit signed by Cheney on eBay. Currently available at the insanely reasonable/reasonably insane price of $1,700.00, the kit has been posted for purchase by Cohen's Israeli anti-terrorist character Colonel Erran Morad.
"Here is a rare opportunity to own a WATER BOARD BOTTLE SIGNED BY the Godfather of the sport - American war hero and all-round mensch, VICE-PRESIDENT DICK CHENEY," the product description reads. All proceeds from the sale will go to Amnesty International, if that helps you feel less conflicted about shelling out almost two grand for an empty milk carton with Dick Cheney's signature. Then again, being conflicted is kind of what Sacha Baron Cohen is going for with the entire show, so maybe you're feeling just right.