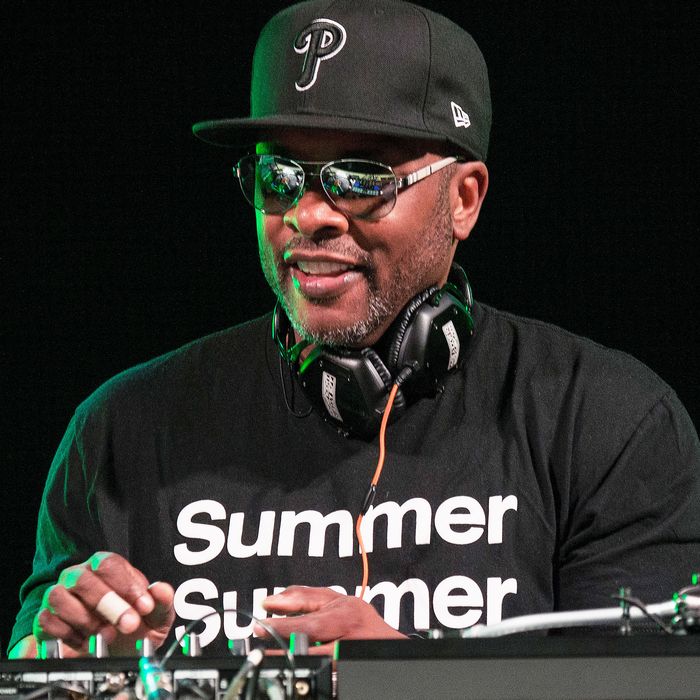 DJ Jazzy Jeff performs during the 2017 Hangout Music Festival kickoff on May 18, 2017, in Gulf Shores, Alabama.
Photo: Erika Goldring/WireImage
Mariah Carey owns Christmas. Earth, Wind and Fire owns September (the 21st of the month, in particular). Prince, and not the Y2K bug, owns the year 1999.
DJ Jazzy Jeff may not own summer to the extent that those previously mentioned own their particular holidays or dates, but he certainly has a claim.
Jeff, Will Smith, and Chicago producers Hula and K. Fingers helped create the song of summer for an entire generation; 1991's "Summertime" is still played on the first sunny, warm day of the year in cold-weather cities everywhere. In addition, since 2010, Jeff and Brooklyn-based DJ (and longtime friend) Mick have put together "Summertime" mixes featuring Seals and Croft, Jay-Z, and seemingly everyone else who has ever released a song that even vaguely feels like a beach or a barbecue (that's more than 350 such tracks through the first eight volumes). Racking up hundreds of thousands of streams, the compilations have turned the duo into the curators of June, July, and August.
With the ninth edition of the mix coming tomorrow, Vulture caught up with DJ Jazzy Jeff to talk about "Summertime": the song, the mixtape, and the season.
What was the first summer song that you remember from childhood?
Growing up in Philadelphia, we had a lot of block parties and parties in the park. And you had songs and music that automatically made you feel you could not wait for the Saturday or Sunday to figure out who was having a block party and who the DJ was and how much equipment they were bringing out. "Summer Madness" [by Kool & the Gang], "Everybody Loves the Sunshine" by Roy Ayers: This is what was blasting on the radio growing up.
The summer song was almost like a feeling [as] opposed to a sound. It made you feel like it was hot outside. Somebody was gonna barbecue. It was time to go to the park, or time to go to the pool. And I think that feeling never leaves you, especially if you grow up like that. And it's really prominent with people who grew up in cold-weather climates because the changing of the season is what brings those emotions on. Like you know the first day that it hits 70 degrees because you're rushing to throw on shorts, even though you're nowhere near shorts weather. You're just rushing to throw on shorts because of that feeling it gives you.
You helped create one of those songs for a whole generation, too. When you first heard the beat for "Summertime," what was your reaction?
This is the first year that Will was in L.A. for the Fresh Prince of Bel-Air. And of course in L.A. it's 90 degrees in December. So this was also the first year that he never went through the season change – 90 degrees in January and February and March. Come April and May, when the season started to change for us, he still felt the nostalgia and I remember him calling me because I think someone told him, "Oh my God, it's 80 degrees in Philly today." He called and he was just like, "Hey, what's going on?" and I'm like, "Oh my God, it's great! It's warm!" You know you got the car out and everybody's out and you start talking about people that you haven't seen: "Oh, you know such and such? He gained about 20 pounds over the winter." "But you know the girl? She looks so good."
It was just the typical banter of the season changing that he missed. And that is what drove him to write that song. A lot of the lyrics about the nuances of summertime is basically what he missed. And he basically wrote all of the things that we grew up with in the summer, never thinking that there are places all across the globe that have the same feeling. But what happened was once he came up with the idea the music of the song perfectly fit. And as soon as I heard it I was like, "Wow. That's it. That's it."
Twenty-seven years later, here we are.
No way, shape, or form did I think that song was gonna be around 20-some-odd years or people were still gonna be playing it. I just knew that this is the song that I wanna hear at the barbecue. That's all we wanted. It was like, "Man, if we can add this for the summer and have everybody at the barbecue and everybody at the block party grooving to it we're good." And it just came back the year after that and the year after that and the year after that. And it was like, "Okay. This is different."
Your first "Summertime" mix leads off with "Summer Madness," the song sampled in "Summertime." Was that an intentional ode?
Yes, absolutely. It was funny – Mick is a very good friend of mine and he actually came up with the idea. He called and he was like, "Hey. I got an idea. I don't know if you would be into it, but what if we did a summer mixtape?" And I was like, "Yeah that'll be cool, but you know what? We can't put any new records on it. It needs to be a least a five- or six-year window before you can put records on it, and it needs to be of any genre. As long as it feels like summer we're good." So we both agreed what we were gonna do, we were gonna make it a hour, maybe a hour and 15 minutes that I would do basically 35 minutes, he would do 35 minutes. It was like there's no way that you can start off a summertime mixtape without "Summer Madness."
What was the immediate response?
We did it and put it out and people played it at the barbecue and people loved it. What happened was come December we started getting emails that they're playing it in Australia because it was Australian summertime. And I was like, "Ah, man that's even better." And then come March you started getting these tweets and hits like, "Hey, are you guys doing another 'Summertime'?" And it was kind of like, "Well. I hadn't planned on it but why not?" And it's been nine years.
On the first eight mixes, there's been just one song repeated One repeat?
I've only found one. D'Angelo's "Cruisin'" appears on volumes four and six.
We never knew that it was a repeat. It started to get to the point that my wife proofreads the mix to make sure. Because I've completed the whole mix and I've given it to her and she's said, "You used three of those songs before." So I had to go back in and do it. Listen, I absolutely have to fact-check that.
Even with that, you've found this massive catalogue of songs that sound like summer. What's the process like now?
It's starting to get hard. It's really starting to get hard to the point that what I do, I have a playlist on my phone that wherever I am in the world if I hear something that triggers it I write it down. Just to keep a mental note, I'll write it down and then I'll immediately send it to my wife and say, "Did we use that?" And she say, "Nope." And I'll be like, "Okay let me put that in." Like I said, the hardest part is gathering the songs that we haven't used. Once we get the songs it's very easy for me to put the mix together.
The mixes lean heavy on songs from the past. Do we still make songs that feel like summer today?
I almost think that one of the reasons why I wanted to use all older songs is because a lot of the older songs were done analog. And I feel like the warmness of a song recorded to tape is something you can't miss. And that's not to say that some newer songs or songs that were recorded digitally don't have that feel, but it's just kind of like … If I had to put my thumb on it for some reason my brain goes to 1975 in San Francisco, California. Those [bands] were very surf-y, very wavy.
In a few years, when today's songs start to show up on your mixes, do you know which tracks will make the grade?
I don't know if I could do that off the top of my head. I would have to really sit down and listen. There are some really good songs. I love the fact that some of the newer and younger generation of musicians know how to target those [emotions]. That makes me feel really good because there was a point in time where I thought that we were gonna lose that. Because when you look at music today, if I ask you who's our modern-day Earth, Wind and Fire, you would be hard pressed to tell me who that was. And as much as I love music I went through a period almost of being depressed because I would hear a beautiful Earth, Wind and Fire [song] and realize how many members there were in the group and how in tune they all were. And it started to feel like that we're in a very selfish period of music that everyone wants to make music by themselves. You don't realize that none of those records that evoke that emotion were made by one person. It was always the collaborative effort. I started to feel better when you start hearing some younger artists, guys like Tom Misch from the U.K. — you listen to his album and it's kind of like, "Wow. You get it. You're young but you get it." That's one of the things that really make me feel good — I know if I really sat down and tried to do [the mix] with more current artists I think once I started digging it wouldn't be hard for me to find [them].
I have to ask you the unanswerable question. What's the best summer song of all time?
If I had to … wow. I was gonna say if I had to pick one, I'll pick two. [But] if I had to pick one, I would probably say "Hot Fun in the Summertime" by Sly and the Family Stone.