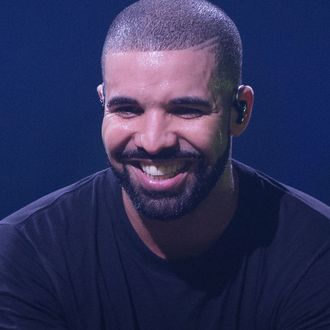 Wow.
Photo: David Wolff - Patrick/Redferns
Drake just can't stop making history. After setting a new global benchmark with a record billion streams for an album in one week, Scorpion has now all but monopolized the Billboard Hot 100. Drake has debuted four new songs from the album in the Top 10 this week — a first for any artist ever — and, combined with the previous set already occupying that group, has a total seven songs charting in the Top 10 simultaneously. That feat has now broken the Beatles' 1964 record of charting five songs in the Top 10 at once (though they remain the only artist to have dominated the entire Top 5). Here's what the chart currently looks like:
All told, Drake has 27 songs currently charting throughout the Hot 100 at the same time, which, you guessed it, is also a record (and breaks his own). Drake's career total Top 10s now stand at 31, putting him above Michael Jackson for solo male artists and tying him with his ex Rihanna. Awkward! Interestingly, while passing MJ on the all-time list, he also gives MJ his 30th Top 10 hit with a posthumous feature on "Doesn't Matter to Me." (Both MJ and Drake are the first solo male artists to reach 30 Top 10s.) Mariah Carey also receives her 25th Top 10 hit as a songwriter because she's credited as a lyricist on "Emotionless" for its "Emotions" sample.
Some more history-making trivia: "Nice for What" returns to No. 1 (dethroning Cardi B's "I Like It"), making it the first song in history to chart at No. 1 four separate times (it has spent eight weeks there total). Drake is the first artist to debut multiple songs simultaneously in the Top 10 twice in a single year (he previously did it with "God's Plan" and "Diplomatic Immunity"). Meanwhile, Scorpion is the first album to launch seven Top 10 hits since Janet Jackson's Rhythm Nation 1814. "Top the charts, back in they hearts" was right!