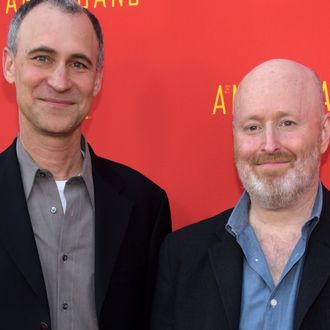 Joel Fields (L) and Joe Weisberg.
Photo: TARA ZIEMBA/AFP/Getty Images
Looks like The Americans' executive producers Joe Weisberg and Joel Fields will be trading in their Russian spy gear for some leather chaps, as Freeform has ordered a pilot of Breckman Rodeo to be produced by the critically acclaimed duo. The show was written by Steve Lerner, and it takes place in his hometown of Cheyenne, Wyoming, where it follows a group of young rodeo riders who, according to a statement from Freeform, "will have to reconcile the traditional values of their sport and their upbringing with the changing realities of the 21st century." One can also assume they will have to deal with a lot of bulls.
FX Productions will also produce the show, which centers around Ashley, "a rodeo-as-hell sparkplug who refuses to stay within the lines that have been drawn for her," which sounds both awesome and like maybe she shouldn't be allowed to drive. She even has a boyfriend (!) named Brant (!) who is "a rodeo prodigy torn between a content, quiet life and the rocky climb to superstardom." Ugh, aren't we all, Brant, aren't we all.