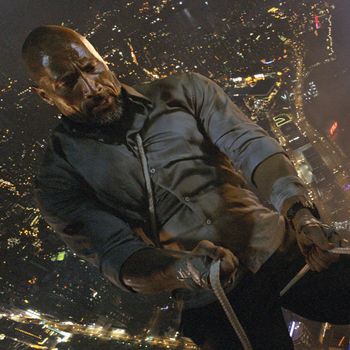 Photo: Legendary Pictures/Universal Studios.
Dwayne Johnson likes to give his audience meat-and-potatoes action movies, but it might be time to bring in a better chef.
The 46-year-old star's new movie Skyscraper brought in a weak $25 million at the box office this past weekend, a number well below studio estimates. While Johnson's Jumanji: Welcome to the Jungle was a nostalgia-fueled hit this past winter, his other recent efforts have proved disappointing: Last summer's Baywatch brutally belly flopped, while spring release Rampage barely opened to more than the second weekend of A Quiet Place and relied on foreign totals to recoup its $120 million budget.
Has the audience gotten tired of Johnson, who's been seen in five movies and one season of Ballers over the last 15 months? I don't think it's that, exactly: Johnson is still one of the best-liked stars in Hollywood, and while he could stand to space his movies out a little more, overexposure hasn't seemed to trigger any sort of personal backlash against him. Instead, I think audiences are losing their desire for Johnson's assembly-line solo flicks, which are made by journeyman directors with no real visual panache or ambition. It's okay for Johnson to stay within his comfort zone, but why do the results have to be so generic?
Baywatch tried to mimic the 21 Jump Street franchise by imbuing its cheesy source material with knowing jokes, but the trailers offered no laugh-out-loud moment, and it arrived years late to the party (alongside 2017's CHiPs), well after the Jump Street series has itself seemingly wrapped up. Rampage was built on a near-forgotten arcade game from 1986 that was itself a parody of King Kong and Godzilla flicks; Johnson's movie simply looked like a rehash of them. Skyscraper felt doubly done before: Not only was it a man-versus-building gloss on Die Hard, but we just saw Johnson navigate a path through perilous, crumbling towers in San Andreas.
Johnson has the power to get nearly any movie made, yet the movies he's making seem like parody posters that would be hung up if he strolled through a season of Entourage. He's not picking premium product, and that's no surprise, given his steadfast refusal to work with an exciting director. Johnson has often been compared to the similarly musclebound Arnold Schwarzenegger, and while Schwarzenegger was no stranger to paycheck action gigs, he also had the good sense to work frequently with one of the greatest action directors of all time, James Cameron. Johnson instead picks repeat gigs with the undistinguished likes of Brad Peyton (Rampage, San Andreas, Journey 2: The Mysterious Island) and Rawson Marshall Thurber (Skyscraper, Central Intelligence). These aren't the go-to names when you want an iconic movie; they're who you hire when you just need a filler film between Fast and Furious installments.
Is this the way Johnson wants it? If he chooses directors with little clout, after all, he has more control over the final product: That's how Johnson steamrolled Peyton into shooting a happier ending for Rampage than what had been scripted. Still, if his solo flicks are ever going to be anything more than time-wasters, Johnson would be wise to up his game with a better director he can return to again and again, and there are several distinctive helmers out there who can elevate his mainstream inclinations. If Johnson wants to make a comedy-infused actioner, why not hire Taika Waititi or Edgar Wright? Do you want to watch Johnson evade bad guys when it's shot ineptly by Brad Peyton or Baywatch's Seth Gordon, or would you rather see him whirl through a well-choreographed action scene from Kingsman's Matthew Vaughn? And if it's a blockbuster with heart that Johnson is hungry for, why can't he woo Patty Jenkins or Guillermo del Toro to lead the charge?
When it comes to Johnson's non-franchise movies, everything is big except for the directors. Until he finds his own James Cameron, the man may be iconic, but his films will stay forgettable.