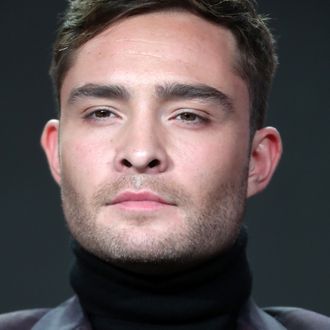 Ed Westwick.
Photo: Frederick M. Brown/Getty Images
In November, Ed Westwick was accused by a woman of raping her in his home. Shortly after that more women accused the actor of sexual assault. The Los Angeles Police Department then opened an investigation into the claims, but Variety reports today that no rape charges will be filed against Westwick, due to insufficient evidence. A memo written by the prosecutors said two of the women provided witnesses to corroborate their accusations, with some of them having been outside the room where the alleged attacks occurred. However, according to the prosecution team, "Those witnesses were not able to provide information that would enable the prosecution to prove either incident beyond a reasonable doubt. Prosecution on those two incidents is declined due to insufficient evidence." The third victim did not make herself available to the District Attorney's office for questioning, and so the office declined to file charges.
Variety further reports that, "The memo also states that some additional women made allegations of inappropriate touching, but that the incidents fell outside the statute of limitations." Westwick has denied all the allegations against him.