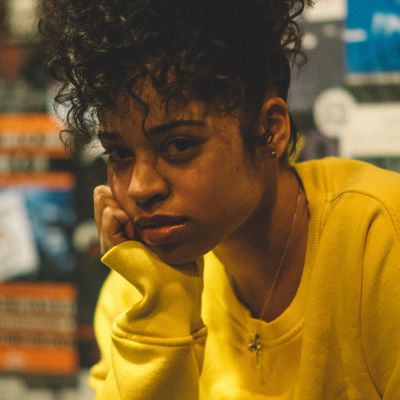 "Boo'd Up" is a rare summer hit. Here's how it took more than a year to blow up.
A summer ago, Ella Mai was on the road touring North America and her native U.K. for the first time as an opener for Kehlani, a fellow R&B star-in-the-making who cultivated her following online. Not long before that, Mai had released a six-song EP called Ready, her third for DJ Mustard's record label, 10 Summers, which she'd signed to in 2015 after the producer discovered her singing 15-second covers on Instagram. At the time, Mai and Mustard were banking on "She Don't," an eye-roll at an undeserving ex featuring Ty Dolla $ign, as the song that would launch her career. But her fans — growing with each new stop on the tour — had other plans: Mai would perform her set then meet with crowds at her merch table afterward. Everyone asked her the same question: Why wasn't she playing "Boo'd Up"?
The intro to Ready, "Boo'd Up" is the oddball of the EP: It's devoid of Mustard's signature producer drop ("Mustard on the beat hoe"), light on his usual handclaps and rubbery drums, ends in spoken word, and revels in the exhilaration of infatuation, where the rest of the EP tries to recuperate from the heartbreak. It's not really much like the rest of her music, and it would've been a gamble to put it in her set. "To be honest, we didn't know that 'Boo'd Up' was gonna be the song to do what it's doing right now. R&B has been on the back burner for so long," Mai tells Vulture over the phone from Los Angeles, where she moved to from London after getting signed. "So to have a purely R&B song slowly build over the space of a year … it's humbling and inspiring."
By late May 2018 — more than a year after its release — "Boo'd Up" managed to leapfrog over the Taylor Swifts, Post Malones, and Beyoncés of the world and into the top ten on Billboard's Hot 100. Last week, it entered the top five and remains there. If you're looking at charts, it's now a barely contested Song of Summer candidate, with only Drake and Cardi B (solo and with Maroon 5) standing in the way of No. 1. It is a hit that shouldn't be one: R&B isn't supposed to make hits anymore, especially if it isn't depressive or sexual. A quick scan of the current Hot 100 reveals that, aside from Bazzi's "Mine," another R&B song about puppy love is nowhere to be found.
The song's success sneaked up on Mai and confused her label, too. "If I would've played this record for rhythm radio programmers before it was this phenom, they would've laughed me out of their office," says Joie Manda, EVP at Interscope, Mai's parent label. "R&B, for a while, really wasn't on urban mainstream radio. It wasn't doing particularly well on streaming services either. But this song is special. It cut through when it kind of wasn't supposed to. It's against trend: It doesn't have trap drums, it doesn't feature a rapper, and it sounds like a classic R&B song that could work in any decade." Both he and Mai struggle now to put a finger on what, specifically, broke "Boo'd Up," but Manda suspects that it's a "good old-fashioned case of word of mouth" that "snowballed and has now hit critical mass."
Around the time Mai bent to her fans' wishes and began opening her tour set with "Boo'd Up," DJ Big Von, an influential San Francisco radio staple, started testing the song out at clubs and on his local station, KMEL. The response was electric and its current lit up social media corner by corner, strengthening each month. Soon, the song reached Chris Brown — contemptible for all reasons except possessing a good ear — who posted it on his Instagram. The song's buzz bled into another winter and then spring 2018, when remixes from Plies and challenge videos on Instagram started pouring in. With R&B, Manda says the industry is figuring out that it's about not being scared off by the time investment of playing the long game.
Interscope initially introduced Mai to the market with EPs, instead of singles, but started monitoring "Boo'd Up's" potential as word of mouth continued to spread. Once the fan demand was apparent, they began pitching it to the major streaming platforms for their top R&B playlists. In April of this year, they released a video, coinciding with the song's entry into the Hot 100. "You know, we could've signed a rapper who has this record that sounds like it should be in the club and on RapCaviar right now," Manda says. "But for Ella, we knew it was a slower strategy."
It's not the first time a song from a Brit has taken more than a year to catch on in the States. In 2014, Disclosure's "Latch" got its second wind in the U.S., after its 2012 U.K. release. But unlike "Latch," "Boo'd Up" is crossing over in reverse, first popping in the U.S. while bubbling slowly in the U.K. (where it's only just broken the Top 60), though Manda ensures that it's being promoted in Europe with the same zeal as in the U.S. Mai has her theories about why she's a tougher sell back home: "I think it's harder for R&B to break in England because the radio and labels don't really know what to do with R&B music. It's changing because it's changing in America, but that doesn't mean there's nobody doing it, especially young females bringing it back."
What Interscope intends to do next with "Boo'd Up" involves a more aggressive push at radio to get it to No. 1 on the Hot 100. Mai did some of that legwork herself by mingling with Migos's Quavo at the BET Awards and learning that he was already a fan of the song (there's a viral video of Migos dancing to her performance), which led to him and Nicki Minaj (who is a friend of DJ Mustard's) remixing "Boo'd Up." It's working: Mai just hit a milestone on the R&B radio charts, and that hadn't been done by a woman since Beyoncé in 2012. "It's been cool to have my name mentioned when people say R&B is on the comeback and I'm the leading person," she says. "If you had told me at 16 that I would be that person — you're lying." But, while prepping to put out her debut album this year (the next single will arrive in August), she has been reflecting on the questions asked of anyone on the receiving end of sudden ubiquity: Why her? And, more crucially, why this song and why now?
Mai's next theory is deeper. She thinks that maybe "Boo'd Up" has hit the sweet spot of universal appeal because it romanticizes whimsy and innocence. "As much as heartbreak music might be therapeutic, we all want love and long for that feeling. So if a song can give you that feeling, even without being in love, that's amazing," she says. It's the idea, she suggests, that we ache for a simpler time — personal, political, or both — and "Boo'd Up" provides that: "It's filling a void. I'm just glad people have this connection to a love song, especially in this world we live in. This is what we need."