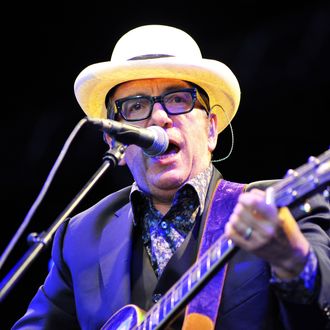 Elvis Costello.
Photo: C Brandon/Getty Images
Elvis Costello has been forced to cancel his remaining European tour dates this summer because of a cancer diagnosis. In a statement released on his official website, Costello revealed that he was told by his doctor six weeks ago about the cancer, which at the time didn't affect his live performances. "My specialist called me and said, 'You should start playing the Lotto.' He had rarely, if ever, seen such a small but very aggressive cancerous malignancy that could be defeated by a single surgery," Costello wrote. "I was elated and relieved that our European summer tour could go ahead."
However, following an unexpectedly strenuous performance in Scotland, Costello realized that canceling the remaining gigs would be in his best medical interest. "It was impossible to judge how this advisory would line up with the demands on a traveling musician," he wrote, "I was almost fooled into thinking that normal service had been resumed." Costello and his band, the Imposters, still plan on releasing their new album in October — accompanied by a tour! — as Costello expects a quick recovery. There's no quitting for this chap.