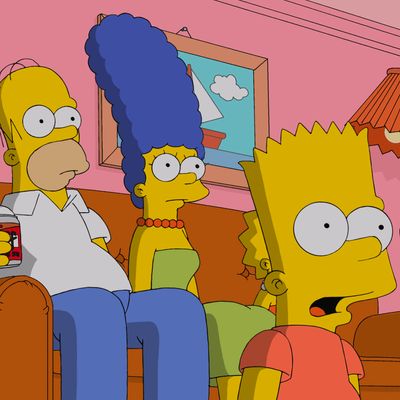 For the first time in Emmy history, a streaming service — that would be Netflix — has more nominations to its credit than any other network. That's a notable milestone, as our Joe Adalian pointed out, especially since Netflix has only been in the original programming business for five years and HBO has been the reigning Emmy-nomination king for the past 17. (On the other hand, Netflix only surpassed HBO by four nominations. Given how much Netflix spent on programming and how many shows they put out in the past year, HBO's Emmy return on investment is still pretty impressive.)
Still, that narrow victory confirms something that even the most casual observer of the TV landscape has been aware of for a while: that Netflix has become the dominant force in the medium and that viewers increasingly stream their television rather than watch it by traditional means. In other words, the Netflix Emmy triumph is at once significant and a case of the Emmys telling us something that we already knew years ago. The Emmys does that a lot: make moves that suggest the voters are forward-thinking even as certain choices highlight the degree to which they're still a few steps behind the times and TV audiences.
Look at the field of nominees and you can find multiple examples of this. Voters finally acknowledged that Modern Family no longer should be nominated for Outstanding Comedy, which is something they should have figured out four years ago at least. On the other hand, that omission made room for three series that were brand new: GLOW, The Marvelous Mrs. Maisel, and Barry. On the other other hand, in the same category voters also nominated the reboot of Curb Your Enthusiasm, which, while amusing at times, hit pretty much the same beats the show hit during its original run. (They didn't nominate another reboot, Will & Grace, that also worked with familiar instruments, which speaks to the Emmys' lack of interest in traditional sitcoms and an overall inclination away from network TV and toward prestige-y cable and streaming offerings.)
Numerous nominees in the acting categories for ongoing series are people of color, including Sterling K. Brown of This Is Us, Jeffrey Wright and Thandie Newton of Westworld, Issa Rae of Insecure, Tracee Ellis Ross and Anthony Anderson of Black-ish, Donald Glover, Brian Tyree Henry, and Zazie Beetz of Atlanta, Leslie Jones and Kenan Thompson of Saturday Night Live, Tituss Burgess of Unbreakable Kimmy Schmidt, and Sandra Oh of Killing Eve, the first Asian-American to receive an Outstanding Lead Actress in a Drama nomination. That's great, and so is the fact that five of the nominated comedies were created or co-created by women and POC. But then you look at the outstanding drama category and realize all the showrunners over there are white and, with the exception of Westworld co-creator Lisa Joy, men.
In other words, the industry and its members are still broadening their scope in terms of the voices and types of shows they recognize, which counts as progress. But there's also still  a repetitive quality in the nominations that has been endemic to the Emmys basically since forever and hasn't quite gone away.
Every one of this year's nominees for Outstanding Drama has been nominated before, either last year or the year before. While most if not all of them are deserving, that speaks to a long-standing trend of carbon-copy voting. If that weren't an issue, perhaps a show like Killing Eve would have made it into the field, adding not only some fresh blood but a series created and overseen by an emerging female talent in Phoebe Waller-Bridge. In the Lead Actress categories in both drama and comedy, four out of the six nominees were there last year. If Julia Louis-Dreyfus and Robin Wright had been in contention this year, I suspect that number would be higher.
Elsewhere, the same seven reality competition series that competed for top honors last year are competing against each other again this year. Same goes for Outstanding Variety Talk Series, with one exception: Real Time with Bill Maher was swapped out and The Daily Show with Trevor Noah was added in its place. Three of the Outstanding Animated Series nominees — Bob's Burgers, The Simpsons, and South Park — are repeat nominees. With a few off years here and there, The Simpsons and South Park have been contenders since the 1990s. Granted, animated series isn't as wide a category as drama or comedy, but other shows have certainly emerged that are worthy of nominations (see BoJack Horseman, for starters). But they haven't gotten them because voters still gravitate to what they know.
There are other ways that Emmy voters demonstrate redundancy. Look at the Outstanding Direction in a Drama category: two of the nominations are for Game of Thrones episodes and two more are for episodes of Ozark, which leaves room for one installment each of The Crown, Stranger Things, and The Handmaid's Tale. In the comedy-writing category, the same problem exists: Atlanta gets two noms, Barry gets two, and Silicon Valley and The Marvelous Mrs. Maisel get one each. I know for a fact that there is more solid comedy writing on television right now than those nominees reflect.
I said this last year, I'm saying it now, and I'll probably say it again at roughly this same time in 2019: The television landscape is enormous and the Emmy nominations recognize only a fraction of it. That's inevitable to an extent. There's simply too much to nominate everything that's deserving. But while Emmy voters are recognizing more of the breadth of quality viewing that exists, they could still do even better.
More than anything, they need to be more daring, something that is, admittedly, hard to do when a persistent chunk of your voting block leans toward old favorites. But wouldn't it be nice to see voters stick their necks out and nominate something that may not be high-brow but is undeniably deeper than it seems, like American Vandal, or a network show that has the balls to challenge its audience's intellect every week like The Good Place, or a CW series like Jane the Virgin that elevates a mode of storytelling (the telenovela) that has traditionally been undervalued?
Awards don't mean everything. Plenty of people would argue they mean nothing at all. But given how much the television industry has blown up in the past decade in terms of quality and the ways in which we engage with it, I think we look to the Emmys now not just to validate our tastes, as we always have, but also to make some sense of it. We look to the nominations to do what our friends and critics do: surprise us by reminding us of a series we forgot or never knew about in the first place. In other words, we look to the Emmys to do more than just tell us what we already know.