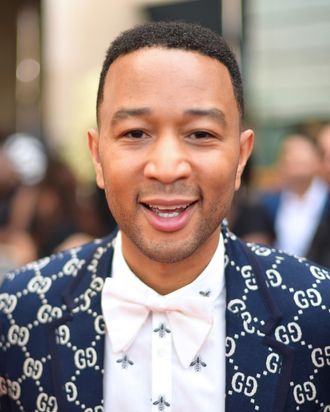 John Legend.
Photo: Matt Winkelmeyer/Getty Images for dcp
With the announcement of the Emmy nominations this morning, John Legend has not one, but two chances of winning an Emmy — which means that in addition to his Grammy, Oscar, and Tony wins, he's within reach of an EGOT. Legend is up for an Emmy for Outstanding Actor in a Limited Series or Movie for playing Jesus in Jesus Christ Superstar Live in Concert, and for producing the show alongside theater legends Andrew Lloyd Webber and Tim Rice, who are also an E away from their own EGOTs.
"If it happens, it would be a truly rare group of people to join," Legend told Vulture. "To do it with Andrew Lloyd Webber and Tim Rice would be especially cool, given that this was their show from the beginning. According to them, we've done their favorite production in the history of the show. It would be cool if this was the one that put them over the top for the EGOT."
Jesus Christ Superstar earned 13 Emmy nominations total, the most of any live TV musical. Along with Legend, co-stars Sara Bareilles and Brandon Victor Dixon also snagged nods for their roles. "For all three of us, as actors, to get nominated is pretty incredible," Legend said, adding that he'd been texting with Bareilles and Dixon this morning.
Legend, who won a Tony for producing a revival of Jitney on Broadway, also said he'd consider getting involved in other stage musicals. "We're talking about it, not necessarily me starring in something, but possibly me writing for something," he said. "It's all up in the air right now, and my production company's involved in a lot of things. I think we'll have some Broadway projects in our future."
Finally, and most importantly, there's the question of whether his theoretical future Emmy statuette would push his wife Chrissy Teigen's Spike TV award out of the way. "We can make room," Legend promised. "We've got a big house."