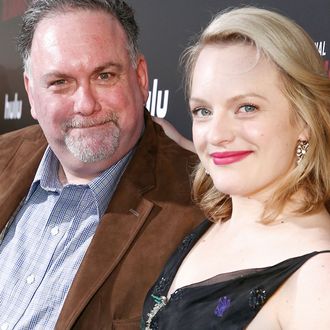 Bruce Miller and Elisabeth Moss attend the premiere of Hulu's
The Handmaid's Tale
in April 2017.
Photo: Rich Fury/Getty Images
Blessed be the fruit, eight times over. Emmy voters handed The Handmaid's Tale another nomination for outstanding drama on Thursday, but even more notable is the show's clean sweep of eight acting nods in four categories: lead actress, supporting actress, supporting actor, and guest actress.
"I'm proud of them. I'm proud to be one of them. I'm proud to be part of this team," Handmaid's Tale showrunner Bruce Miller said over the phone after the nominations were announced. "From the outside, when your name is on the list, it all seems very clean, neat, and tidy. But, you know, Burton J. LeBlanc, our makeup man, whose department is nominated, that's a job he does 20 hours a day, when it's three degrees below zero. And does it five days a week, in Canada, for months and months and months, with good humor, with incredible artistry, with patience. That kind of day-to-day, in-and-out genius is so wonderful to see recognized."
Below, Vulture asked Miller to assess the performances of each of the nominated actors, and what each brought to their roles in the Hulu drama's dark and brutal second season.
Elisabeth Moss as June (Lead Actress in a Drama)
"Elisabeth just is the Handmaid of The Handmaid's Tale. She brings her heart and her soul and all her years of experience to the role, but I think what she brings to the role, honestly, is us. She's the way that I feel that I connect to the show — through her character."
Yvonne Strahovski as Serena Joy (Supporting Actress in a Drama)
"Yvonne brings sympathy to the unsympathetic and she brings an absolute level of strength for that character that is unfathomably deep. It is a very complicated, difficult character that she plays with such precision. It's a miracle of a performance. You feel bad for this woman who's doing such horrible things."
Alexis Bledel as Emily (Supporting Actress in a Drama)
"Alexis has a quiet, terrifying, coiled-up anger and fury that comes from this deep, deep, deep place inside her. I don't think she carries around much darkness, but she plays that darkness in Emily so beautifully — the darkness of loss, the darkness of a mother who is separated from their child. She plays the dark depth of that character. It gives you goose bumps to watch her do it."
Ann Dowd as Aunt Lydia (Supporting Actress in a Drama)
"Ann is the most wonderful woman playing the most terrible woman. The thing that she brings to that character is a sense of duty — and I know it's weird, but what Ann brings to that character is warmth. That's what makes Aunt Lydia come alive."
Cherry Jones as Holly Maddox (Guest Actress in a Drama)
"Cherry Jones just brought Holly to life. She's a huge character in the book, and we were always wondering how could we live up to this character who is kind of an icon of a certain age of feminism. The thing that Cherry brings to the role is this grounded realism, and a version of familiar and motherly love that you don't often see on TV with that kind of complexity. She's wonderful."
Samira Wiley as Moira (Guest Actress in a Drama)
"I love her. Samira plays a character with a tough shell and a soft mushy center in a way that you feel like you know her better than she knows herself. I have no idea how she does [it]."
Kelly Jenrette as Luke's ex-wife, Annie (Guest Actress in a Drama)
"Oh, she was wonderful. The thing that she brought to this character — who, when offscreen, is nothing but an impediment — she brought her to life in the most beautiful, sympathetic, genuine, complicated, frustrated way. She put the face on a whole relationship and a whole life that totally changed the way [June] saw her husband and the genesis of her marriage. She carried so much in this small bit of work. She filled out areas of the world that we just didn't see, except through that experience with her and through her eyes."
Joseph Fiennes as Commander Fred Waterford (Supporting Actor in a Drama)
"A thankless role! He plays a tortured torturer. He is, in a lot of ways, a man who sees himself as a very good man, a moral man, a man who is trying to make a change in the world, and is forced to do these things that are gradually turning him into something he doesn't recognize. It's a remarkable exploration of what happens when you're being transformed into something you don't like."
This post has been corrected to show that The Handmaid's Tale actors received eight Emmy nominations this year.