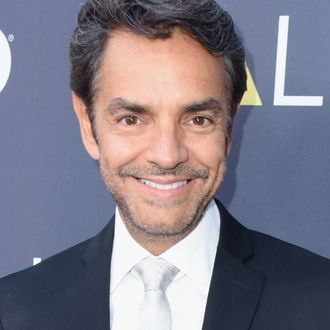 Eugenio Derbez.
Photo: Vivien Killilea/Getty Images for NALIP
Eugenio Derbez spent the summer frolicking around the coast with Anna Faris in Overboard, but now the star of How to Be a Latin Lover is headed to streaming to make a new show for Amazon Prime. LOL: Last One Laughing will be his first TV show in six years, according to Deadline.
Derbez will lead the six-part series, which will feature ten Mexican comedians from various disciplines, "including stand-up, character, improvisational and physical comedy." Variety is reporting that the show is based on the Japanese game show Hitoshi Matsumoto Presents Documental, which is also on Amazon Prime. In that show, ten comedians are shut in a room together, a room they have to leave if they laugh. So of course, they all do their best to make each other break and empty out the room. At the end, the comedian who has managed to stay in the room the longest without laughing wins a cash prize. For Derbez's show, the prize will be one million pesos.