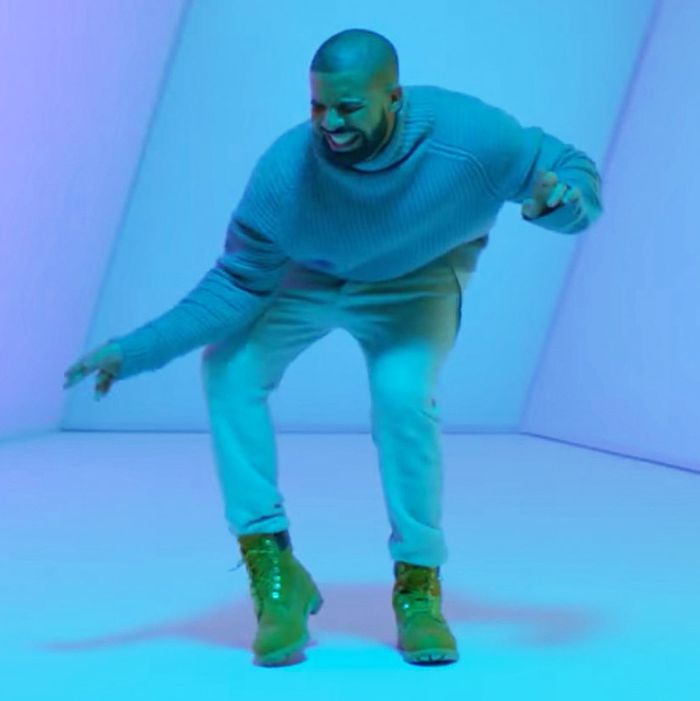 As one of the most vital and impactful pop stars of the last decade, Drake has established himself as a trendsetter and a canny trend-chaser across pop, rap, and R&B: Even at his most vampiric, he's succeeded at elevating the sounds of the underground to the mainstream, and even at his most uncool, he's proven himself as an arbiter of what's hot to the general masses.
His track record with music videos, however, has not been as solid. Similar to Kanye West — whose album 808s & Heartbreak practically laid the blueprint for the first five years of Drake's career — Drake has proved astoundingly inconsistent when it comes to the visual format. For every hit, there's been two misses; for every "Hotline Bling" or "Nice for What," there's been a "Hold On, We're Going Home" or "Find Your Heart." He's clearly interested in the medium; why else would he pack his clips with useless, unfunny skits and overlong narrative diversions? But it's become clear over the last nine years that his capacity for good taste largely stops when he exits the recording booth.
So what follows is a ranking of every Drake video, from worst to best — no other qualifiers here, starting from the bottom (get it?) until we get to the cream of the visual crop. One thing before we start: Drake has cameoed in more videos than a YouTuber with a ton of YouTuber friends, so for the sake of consistency we've stuck strictly to videos for Drake-toplined singles. (That means no "Forever," which is fine — that video sucks.) That also means we unfortunately disqualified the infamous Sprite advertisement where Drake's face comes apart like a robot, which is undoubtedly the most iconic Drake visual in existence.
Just hold on, we're going home (after we finish ranking these videos).
26. "Practice" (2012; unknown)
Barely a video, but definitely Drake's worst: This clip for the Take Care cut is literally just four minutes of a woman dancing provocatively in front of a camera in a messy room, before Drake himself makes an appearance at the end to kiss her on the head. No wonder why there's no director credit for this — if you were the one to put this together, would you want to admit it?
25. "We'll Be Fine" (2012; Mikael Colombu)
Drake reportedly scrapped this Take Care clip after both him and Colombu agreed it didn't come out to their liking, and you only need to watch it once to understand why. A bizarre mishmash of live footage and neon pop-art mumbo jumbo, perhaps the best thing that could be said about it is that the fact that Drake basically buried it speaks to his ability to recognize — even with a spotty visual track record such as his — when a product is simply too bad to be released with his name on it.
24. "5 AM in Toronto" (2013; Ram Accoumeh/Andrew Hamilton)
Unless you're a huge Drake stan (and if you're reading this, who knows, you might be!), you probably don't remember this loosie of a song; even more likely is you not remembering the video, and it's totally possible that Drake doesn't remember making this one, either. There's shots of him walking off a plane runway, into a club — you know what it is. This is the type of shit Drake does in his sleep, bringing a whole new meaning to the word "effortless."
23. "Miss Me" [ft. Lil Wayne] (2010; Anthony Mandler)
Mandler — a music-vid veteran whose impressive CV spans Rihanna and Jay-Z to Taylor Swift and Lana Del Rey — handled all the videos for Thank Me Later's three singles, and "Miss Me" is inarguably his slightest work in the bunch. The "Find Your Heart" clip might be offensive (we'll get there) but it possesses style, while the video for "Over" provides good early-iconography fodder; this one, however, comes across as on-the-cheap and on-the-fly, with cruddy visuals and a literally piped-in performance from Lil Wayne, who appears to deliver his verse in absentia through overlaid footage shot by director David Rosseau, shortly before he went to jail to serve an eight-month sentence for criminal possession of a weapon. "It wasn't shot the way I would have shot it," Mandler told MTV at the time about the previously shot footage, and the struggle to contextualize it certainly shows.
22. Please Forgive Me (2016; Anthony Mandler)
Regardless of what you thought about its songs, you can't argue that 2016's Views wasn't long. Like, really long. The divisive album marked the beginning of Drake's era of infinite and exhausting largesse (which, considering Scorpion's gargantuan track list, is far from over), and it was only fitting that both visuals from the Views era push it run time–wise. This not-really-a-music-video is actually a 21-minute short film featuring a coterie of Views songs, with an incomprehensible action-film plot helmed by Thank Me Later–era video collaborator Mandler that takes the goofy-serious excess of "Hold On, We're Going Home" and just adds more excess. Few can mistake the ambition here, but even fewer can make it to the end without falling asleep.
21. "Jungle" (2015; Karim Huu Do)
Drake: looks sad! I know, hard to believe, but it's true. Essentially a sober-ish redo of the visuals for "Marvin's Room," there isn't much to this If You're Still Reading This clip, except a lot of cold weather and shots of Drake looking pensively out of windows. You're better off closing your eyes and just bathing in the immersive beauty of the song, one of Drake's best R&B cuts to date.
20. "Best I Ever Had" (2009; Kanye West)
Yup, 'Ye helmed this clip from Drake's first true smash off of 2009's seminal mixtape So Far Gone, and it bears the mark of his horndog tendencies: This cheesecake clip is little more than bouncing basketballs and bouncing cleavage, Drake playing coach to a female basketball team dressed for pretty much anything other than playing basketball. Lil Wayne makes a cameo, but perhaps the most notable (and portentous) element of the "Best I Ever Had" video is the proliferation of skits breaking up the action (or lack thereof). There are two in this video, including one where Drake tells his team that they need to get better at "[taking] that D." Blech — we get it, Kanye. We get it.
19. "Child's Play" (2016; Drake/Carlos "Spiff TV" Suarez)
In the fall of 2016, a truly shocking and terrible event took place in North America: Drake released a 12-minute video for a Views single with three skits. In all seriousness, perhaps the saving grace of the clip for "Child's Play" is that it's shorter and slightly more comprehensible than the aforementioned Please Forgive Me; also, it features Tyra Banks throwing cake in Drake's face. Cool. Shame about the strip-club skits, though.
18. "Find Your Love" (2010; Anthony Mandler)
"The worst thing about crossing a line … is when you don't know you already have …" The opening title card to this clip for the Kanye West–produced Thank Me Later single is thoroughly fake deep, and it only gets worse from there. Marking the first time Drake tried his hand at narrative storytelling-as-music video (as he would ill-advisedly do throughout his career to date), the shot-on-location "Find Your Heart" follows Drake in Kingston, Jamaica, as he chases after a woman (played by model Maliah Michel) while tangling with a gang leader (played by dancehall don Mavado) in the process. Spoiler alert: The woman ends up killing Drake in the end. Kind of funny. You know who didn't find this video funny? Edmund Bartlett, Jamaica's minister of tourism. Go off, Edmund: "We just have to say that care has to be taken by all, including our creative artists, in portraying images of our destination and people, Gun culture, while not unique to Jamaica, is not enhancing [the island's image]."
17. "Replacement Girl" [ft. Trey Songz] (2007; Shane Stirling)
This clip from Drake's second mixtape, 2007's Comeback Season, is an interesting curio to revisit if only to hear the beginnings of Drake finding his voice, literally — his pitch is higher and less pronounced than the style he'd find more success with two years later, and his flow is nervously rushed. Otherwise, a serviceable and ho-hum video that ticks the boxes for late-2000s bare-bones R&B and hip-hop visuals (cars, women, more women, a nondescript purple background with a carpet to match). Worth watching for Drake's questionable styling, including a black-and-white zig-zag hoodie that looks like it belongs in the Black Lodge.
16. "Successful" [ft. Trey Songz] (2009; Jake White)
Aubrey and Trey's second visual outing for this So Far Gone single is considerably slicker and higher-budget than "Replacement Girl," but no less generic: Trey's hook references wanting money, cars, clothes, and "the hos," and there's plenty of money, cars, clothes, and women featured here. But generic visuals suit Drake sometimes, especially when it means we don't have to suffer through OVO-also-ran-starring skits — but the "Successful" clip nonetheless falls flat on its face when closing with a quote from (wait for it — WAIT FOR IT) Barack Obama. Barack Obama! Wild.
15. "I'm Upset" (2018; Karena Evans)
On paper, this made perfect sense, and it should've happened at least five years ago. Why not bring back Drake's Degrassi: The Next Generation co-stars for a meme-smashing reunion? This video was likely in the cards for a while, but perhaps the serendipitous timing of its arrival — right after Pusha-T dealt Drake the first demolishing blow to his persona in his entire career with the searing, secret-child-exposing "The Story of Adidon"— meant that the clip for "I'm Upset" would always be unfairly judged. By any measure, though, this video stinks of a missed opportunity: putting Drake's former co-stars in an overtly debaucherous setting may have been fun to shoot, but it misses the wholesome fan-service appeal that the entire conceit carried to begin with. Extended skits featuring Jay and Silent Bob (whose Kevin Smith once directed several episodes of TNG) certainly don't help. Sorry, Drake: You are still hiding a child.
14. "Hold On, We're Going Home" (2013; Director X)
It's always a warning sign when an artist calls his latest music video a "short film," and this Miami Vice--indebted clip for the eternally classic Nothing Was the Same single is certainly not, well, Miami Vice. As its ranking on the list shows, it's not Drake's worst attempt at incorporating a cinematic narrative into his music videos, but it's relatively lifeless and uninteresting, all explosions and meaningful stares and Drake very unconvincingly shooting someone in the head. Fun fact: Ashley Moore, who plays the damsel in distress the video centers around, was also in Popstar: Never Stop Never Stopping — specifically, the scene where everyone but her is disgusted by Conner4Real's loyalty-testing dog-shit-pancake recipe. Iconic.
13. "The Motto" [ft. Lil Wayne and Tyga] (2011; Lamar Taylor/Hyghly Alleyne)
Drake's since become known for hopping between regional subsets of hip-hop culture like a kid on a pogo stick, but the video for the hyphy-jacking Take Care bonus track "The Motto" takes it to another level by opening with testimonial footage from the mother of late Bay Area rapper Mac Dre. The clip is perfunctory and Bay Area–specific, which works; points docked for Tyga wearing a Dodgers jersey (seriously?), and just for Tyga in general.
12. "God's Plan" (2018; Karena Evans)
It's hard to watch Drake visiting a Miami high school and bestowing an astounding and moneyed generosity on its attendees without getting a little sentimental. The world is shit lately — who doesn't deserve some random good cheer? But the video for "God's Plan" also represents the moment in which Drake effectively turned into the rap-game Taylor Swift (don't leave yet): pulling stunt after stunt to bolster his brand, and increasingly losing sight of the fake-realness that once made his vibe so alluring to millennials. The video still stands as a sweet gesture, as well as something Drake deserves to be commended for — and, unfortunately, I bet that's exactly what he wanted us to feel, too.
11. "Sneakin'" [ft. 21 Savage] (2016; GAB3)
Drake and 21 Savage: trash humpers? This clip for the pair's one-off single leading up to last year's More Life certainly possesses the VHS-quality grittiness of Harmony Korine's weirdo cult film from 2009, and the aesthetic — however explicitly aesthetic-y it may be — does fit the otherwise-typical rap-video tropes on display here well enough. The only thing left to do after watching it is wonder if 21 Savage has ever seen Gummo. (He probably has.)
10. "Started From the Bottom" (2013; Director X)
Some great and well-shot images in this video: Drake in the snow, Drake working as a pharmacy-store clerk, Drake peacocking atop a huge "Started From the Bottom"–emblazoned billboard. Frequent collaborator Director X knows how to capture these moments effectively, and in the rearview "Started From the Bottom" is a snapshot of Drake truly entering his era of empire in hip-hop, while also beginning to flirt with the pop dominance he'd later achieve. Less effective: a skit where OVO also-rans OB O'Brien and Ryan Silverstein ogle a woman at the checkout counter, setting an early precedent for what Drake & Co. consider "comedy."
9. "Headlines" (2011; Lamar Taylor/Hyghly Alleyne)
Indelible self-generated iconography from Drake here, as he sports a variety of increasingly idiosyncratic dad-fits (that sweater!) and bros down big time all over Toronto. Notable partially for the "OVOXO" graffiti featured, signifying the era in which Drake and the Weeknd were creatively simpatico; but mostly for the level of confidence exuded here. It's the first time he actually looks like a star, without just acting like one.
8. "Over" (2010; Anthony Mandler)
The lead single from 2010's debut LP Thank Me Later possesses a chest-thumping confidence, but it's clear in this video that Drake hasn't yet perfected his on-screen attitude; there are a few moments where his facial expressions suggest he's still lost in Sheila's special sauce back in the Degrassi cafeteria. Thankfully, Mandler's trippy visuals do most of the heavy lifting, including some pretty cool silhouette effects that make it look like Drake is on fire — think the closing minutes of Altered States. Good movie!
7. "Energy" (2015; Fleur & Manu)
Drake is everywhere. In real life, but also in this video: He's Kanye in the "Bound 2" video, he's Oprah, he's Justin Bieber wearing his Calvins, he's Barack goddamn Obama. Parisian auteurs Fleur & Manu are typically known for clips that are as stylish as they are surreal, and although the concept perhaps doesn't land as well as Drake would've hoped (explicitly acknowledging your own ubiquitousness in the notoriously fickle realm of pop music is a dangerous move!), it's good for a chuckle or two.
6. "Take Care" [ft. Rihanna] (2012; Yoann Lemoine)
Mountaintops! Slo-mo! Beautiful birds! Rihanna! The clip for Take Care's Jamie xx and Gil Scott-Heron–sampling title track is expensive-looking as all hell, to the point where it might inspire you to go shopping for some nice countertops or luxury cars afterward. (Or, if you can't afford that, like, a LaCroix or two.) There can be beauty in meaninglessness, and by that measure the video for "Take Care" is the Venus de-fucking Milo, handled to aesthetic and antiseptic perfection by Yoann Lemoine, a.k.a. pop musician and one-time Lana Del Rey collaborator Woodkid. Also doubles as a piece of questionable importance when it comes to the ever-growing puzzle that is tracing the last seven or eight years of Drake and Rihanna's are-they-or-aren't-they relationship.
5. "Marvin's Room" (2011; Lamar Taylor/Hyghly Alleyne)
It's easy to forget, in the wake of countless imitations, how startling "Marvin's Room" was when it first came out in advance of 2011's landmark Take Care; the sentiment was occasionally risible, but the musical aesthetic and woe-is-me lyrical preoccupation would come to define Drake's career for years to come. The affiliated clip aptly captures the song's louche pathetic-ness and chemical decadence, with woozy effects and a purple filter over footage of passing street lights and Drake hitting up bars. It's simple, and simply effective.
4. "HYFR (Hell Ya Fucking Right)" [ft. Lil Wayne] (2012; Director X)
This visual reenactment of Drake's bar mitzvah gave us so much — including, and perhaps most importantly, the eternal meme of child-aged Drake vibing at his bar mitzvah. Aww. Lil Wayne wears a panda mask and smashes a floral centerpiece with a skateboard, tequila is chugged, and everyone in general acts horny and corny — and, hey, since when is Drake not horny and corny? When it comes to the Take Care era, this is Peak Drake personified.
3. "Worst Behavior" (2013; Drake/Director X)
Quite possibly the finest Drake song, ever. The video? It comes close to the top, too. Drake and X shot the video in Memphis, bringing in southern rap icons ranging from the Hot Boys' Turk and Project Pat to Juicy J and MJG to make appearances — as well as Dennis Graham, Drake's father whose own past and public narrative have both perhaps embodied the definition of "it's complicated." But he can count this as a win, and so can Drake; the song is cockiness at its most abrasive, and the video certainly follows suit. Arguably the most effective application of Drake's swagger, something he hasn't really exuded in such fashion in music-video form since. Remember?!?
2. "Nice for What" (2018; Karena Evans)
Yes, it's an obvious bit of pandering from Drake's brand, just like the song itself — but, honestly, it works fantastically anyway. Evans's beautifully lit and edited clip is a visually overwhelming coterie of female celebrities doing their thing. You could sell someone on watching it just by shouting out the names of the people that appear in it: Tracee Ellis Ross! Issa Rae! Syd! Bria Vinaite! Emma Roberts! (What, you're incapable of getting hyped about Emma Roberts?) Most importantly, Evans gives us the hilariously amazing shot of Michelle Rodriguez in lotus pose, floating off the ground like the goddamn queen she is. True story: I saw a guy watching that scene in a coffee shop when I was settling down to work one day, and it gave me enough energy to write, like, 10,000 words that day. Michelle Rodriguez literally floating on the haters will do that to you.
1. "Hotline Bling" (2015; Director X)
Instantly iconic and meme-able to the point where the memes never really stopped flowing, Drake's X-helmed classic clip for "Hotline Bling" did much more than teach hypebeasts to put some respect on James Turrell's name. At once silly, serious, pretty, and astoundingly vainglorious, "Hotline Bling" is all soft hues and shameless mugging — is there any other way to define Drake when he's truly on one? — and its staying power has been such that it's the only pop-cultural artifact from the last five years that not even Donald fucking Trump could ruin. In a sense, it could prove to be Drake's cultural albatross — he loves to be loved, and it's so rare that a pop star even of his size makes something so instantly indelible as the video for "Hotline Bling." He'll likely spend the rest of his life trying to recreate its virality, and even if he fails, we'll always have this video.