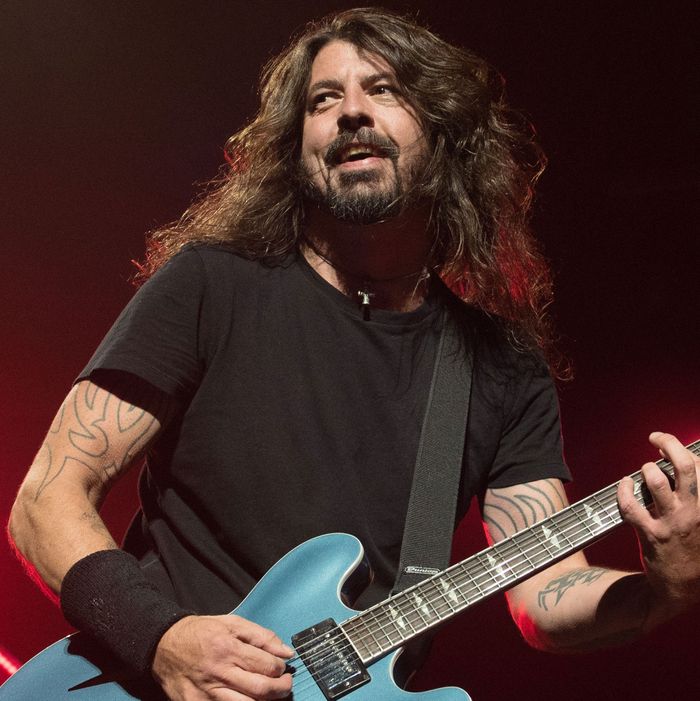 Photo: Noam Galai/Getty Images
Nirvana hit '90s teen culture like a bomb. The myth rock fans of a certain age always tell about the little Seattle trio that could and its David-and-Goliath battle to unseat poppy Cali hair metal to usher in the grunge era is only a half-truth. In its inaugural January 1992 Billboard chart–topping week, Nevermind surged past arguably classic albums by Michael Jackson, U2, Garth Brooks, and Metallica. Really, the story is that Nirvana unseated everything. For a while, you couldn't get through a week of school without encountering the band's logo, a dead-eyed smiley face feigning contentment. The image suited the era. After 1991, elegant disaffection became a coping mechanism. Displeasure sent youth filing out into all sorts of activism. It is no coincidence that soon after, MTV exposure becomes a factor in a presidential election.
It's difficult to call Kurt Cobain the center of some of these cultural vibrations. It was clear that he hated hearing as much, because pressure like that led him to catastrophe. But it's also hard to imagine the '90s going down the way they did without him. The speed at which he rocketed to the center of the national consciousness, at least for people under the age of 25, then vanished, is still dizzying. Stranger still is what happened next: Dave Grohl, the drummer, hit the ground running with one of the decade's most airtight rock records. The dueling shock and satisfaction of 1995's Foo Fighters must mirror what Beatles fans felt when the band busted up and George Harrison walked out of there with All Things Must Pass, a tape of great songs he didn't feel confident enough to float to his old band's chief songwriters. You already knew Grohl wrote if you'd tracked down the In Utero cassingles and heard the pretty, plaintive "Marigold" on the black "Heart-Shaped Box" tape, but the clarion simplicity, punk fury, and subtle surf-rock vibes of the first Foo Fighters album, and the fact that Grohl played and produced all of it on his own in a single week in 1994, is nothing short of a coup.
Early Foo Fighters records seemed to swing very deliberately away from the scabrousness and deliberate obtuseness of Nirvana. They're sentimental and direct, and that makes some of them work at weddings. They're fleet and propulsive, which makes a lot of them great for radio. Ever thought about what "Scentless Apprentice" might've been if Cobain wasn't consumed by a fascination with perfumes and European historical fiction, or what "Polly" could've been if it weren't taken with the gruesome particulars of an old local tragedy? Grohl's not the better songwriter for fixating on human connection where Cobain spoke abstractly about calamity, anymore than it can be suggested that emotional clarity makes "Getting Better" a better Beatles song than "A Day in the Life." Each approach has pros and cons. Kurt was shockingly intelligent but hard to read. Grohl's sincerity inspired a good bit of mush — for every bleeding heart anthem like "February Stars," there's cute shlock like "Walking After You" just around the bend.
In the nearly 25 years since he poured himself into his own songs, Dave Grohl slipped from being rock's most unlikely frontman into a tenure as rock's consummate frontman. He preaches, sometimes decidedly coarsely, about the value of learning to play an instrument. When he heard about the impending closure of Sound City, the SoCal studio where Nevermind and classic Fleetwood Mac and Tom Petty records came to life, he made a whole movie about the life and death of the facility and purchased its ultrarare Neve 8028 mixing console. Grohl's still good for no less than half a dozen corkers per album; some average better than others. 2011's Wasting Light and 2017's Concrete and Gold are strong latter-day highlights. Wasting Light is a triumph of precision, of interlocking start-stop melodies and simmering desperation, one of the few times the Grammys picked the right winner for Best Rock Album from its list of nominees. Concrete and Gold came together when Grohl realized his musician friend Greg Kurstin was a producer, and co-architect of a handful of the decade's most successful pop albums. In Kurstin's hands, the Foos exploded in a million directions, softer in spots and heavier in others. The songs morphed and changed, where their predecessors were satisfied just emoting over an unassailable riff.
In 2018, the Foo Fighters are more than just a reliable pop-rock machine and an outlet for the lead singer's creativity. They're torchbearers. The heroes of the '90s mainstream-rock revolution are dying. Against all odds, the Foo Fighters are protectors of the flame. Grohl's band is a murderer's row of storied players, comprising Pat Smear of Nirvana and the Germs, Nate Mendel from Sunny Day Real Estate, Chris Shiflett from No Use for a Name and Me First and the Gimme Gimmes, Taylor Hawkins from Alanis Morissette's touring band, and Rami Jaffee from the Wallflowers, an organ player on a dozen successful '90s and aughts rock records. The Foos' live show, which blew through Madison Square Garden this week, is a monument to Dave Grohl's 25-year resume of solid songs and to the history, outrageous spectacle, and messy physicality of arena rock.
Onstage, these students of rock-and-roll history become spirited evangelicals. If you know your shit, you're rewarded with a night full of Easter eggs. Opener "All My Life" descends unexpectedly into the riff from Ted Nugent's "Cat Scratch Fever." Grohl effects AC/DC guitarist Angus Young's famous duck walk during another song. Hawkins's drum kit shoots 15 feet in the air for a solo at one point, a trick on loan from old Kiss and Mötley Crüe stadium gigs. The ten-minute mid-show band-introduction session gives Mendel a crack at the bassline from Queen's "Another One Bites the Dust." Jaffee plays the piano lick from John Lennon's "Imagine" while Grohl sings the words to Van Halen's "Jump." (They fit surprisingly well together.) Hawkins and Luke Spiller, lead singer of the Concrete and Gold tour openers the Struts, duet on an impeccable "Under Pressure," with Spiller as Freddie Mercury and Hawkins as Bowie, not long after Hawkins does a nearly note-perfect rendition of Mercury's legendary 1986 Wembley Stadium vocal exercise. For a little while, beautiful ghosts from rock's back pages feel present and vivacious.
It's no accident that Dave Grohl, a performer whose career as a songwriter carried him out of the long shadow of one of rock and roll's brightest, most tragic ghosts, showers this much affection on his elders and influences. As Grohl sang in a muted MSG rendition of 1997's "My Hero" — a song he swears he wrote about the movie Valley Girl, even though fans have long understood it to be an unconscious tribute to Kurt Cobain — "Don't the best of them bleed it out / While the rest of them peter out?" In his fourth decade as a touring musician — Scream counts! — it's clear that Dave Grohl will be around as long as anyone is willing to have him. Reports that rock and roll is dying are premature. Hip-hop has captivated a vast and loyal streaming audience, but when you run the numbers for who's buying digital files and hard copies, you find a sizable audience of rock fans devotedly aging out with their favorite bands. Just past the halfway mark, 2018 already sports chart-topping albums from Fall Out Boy, Jack White, Bon Jovi, Panic! at the Disco, and the Dave Matthews Band. A few of them are quite good. The elders never tell you how much fun you can still have after the grays come in.