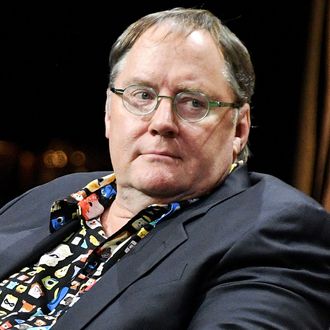 John Lasseter.
Photo: Mike Windle/Getty Images for Vanity Fair
Last month, Pixar and Walt Disney Animation announced that its chief creative officer, John Lasseter, would be departing both studios at the end of 2018. This was due to numerous current and former female employees of the company speaking out about Lasseter's inappropriate sexual behavior in the workplace, behavior that was allegedly covered up by Disney executives. (Specifically, this included allegations of unwanted physical contact and encouraging a "sexist and misogynistic culture.") In a new essay for Variety, former Pixar graphic designer Cassandra Smolcic wrote about how she put up with the toxic behavior of Lassester and other male Pixar executives for years in fear of losing her "dream job," eventually choosing to leave the company because she couldn't tolerate it anymore.
"It was devastating to learn, right from the start, that women were open targets for disrespect and harassment — even at a world-renowned workplace in the most liberal-leaning city in the country," Smolcic explained. "Over the next five years, I white-knuckled my way through many unwelcome, objectifying interactions with [her department head], with Lasseter, and with other men; was physically groped by another male coworker; and was sidelined from projects by the unofficial boys' club casting system." When Smolcic began working on Cars 2, she realized the full extent of Lasseter's behavior:
I was told by a superior that I would be uninvited from all our weekly art department meetings because Lasseter "has a hard time controlling himself" around young women. I was crushed to have my participation in the filmmaking process — and subsequently my career trajectory — thwarted simply because I was female. It was clear that the institution was working hard to protect him, at the expense of women like me … but Lasseter didn't need an intimate setting to make female employees uncomfortable.
Smolcic said Lasseter would give her and countless other women "lecherous up-and-down looks (or unwanted hugs and touches) almost every time we crossed his path on campus." She also blames management teams across the studio for always "cleaning up the messes" made by Lasseter and other male executives.
Lasseter will be replaced by Pete Docter at Pixar and Jennifer Lee at Disney Animation, respectively, at the end of the year.