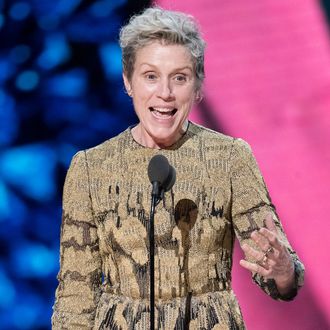 Photo: Craig Sjodin/ABC via Getty Images
On the third day, God ended up eschewing the evening and morning for a bit of voice acting. Frances McDormand will be playing the role of God in Amazon's upcoming adaptation of Good Omens, months after cementing her godly status with her Best Actress win at the Oscars. "We knew God had to be a woman," Neil Gaiman, who co-wrote the original novel and is serving as the adaptation's showrunner, told THR. "We were talking about great American actresses because we knew we wanted it to be an American voice." McDormand will be joining an iconic trio of gentlemen for the show, who are, in no particular order: David Tennant's demon Crowley, Michael Sheen's angel Aziraphale, and Jon Hamm's archangel Gabriel. We still have to wait a bit until given a Good Omens trailer, but since it is Comic-Con weekend, Amazon was kind enough to release a lil' vignette to tide us over.
The series, "6,000 years in the making," will debut sometime in 2019.