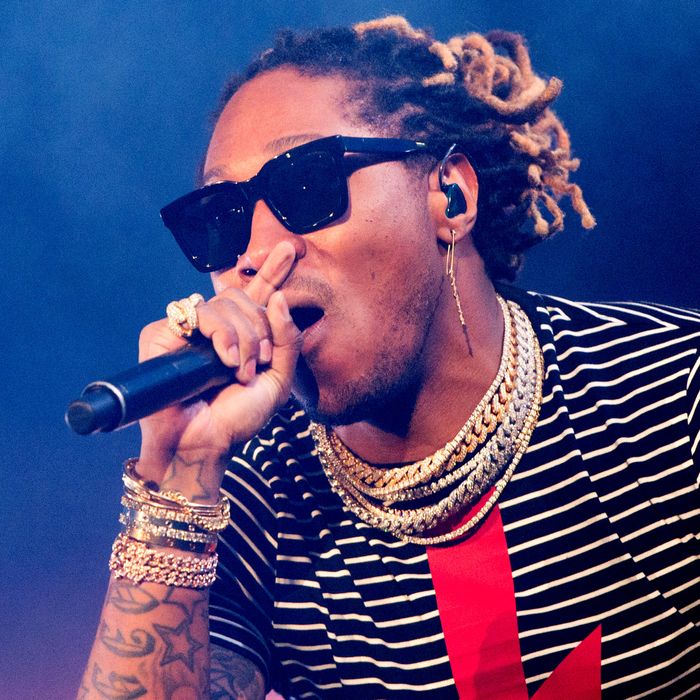 Photo: Ollie Millington/Getty Images
Future's debut studio album, Pluto, came out in April of 2012 and would quickly go on to blueprint much of rap's radio-endorsed and subterranean trends for the next few years. At the time of its release, the album was a stunning survey of the artist's range: There was glossy R&B, a stiff-lipped Pimp C elegy, shouted debauchery, bad Pacino, warbled myth-making. It was deliriously happy, it was deeply pained. It was a modest Billboard success — nothing spectacular. But Future was an obvious star — tall and handsome, inventive but in tune with where rap and pop were at the present. His tics and vocal filters entered rap's lexicon almost immediately.
Which made the two-year gap before album No. 2 seem strange. Though he had no follow-up, Future didn't stay quiet. In 2013, he wrote "Body Party" with Ciara, whom he had recently started dating. The song cracked the top 25. Future was cooking hits seemingly at will: he was on "Bugatti" and "Love Me" and "U.O.E.N.O.," barking and crooning and bending rap into his orbit. As 2013 became 2014, a fling with Ciara became an engagement. Future was going to be in glossy magazines and on late-night couches just as often as he was on radio mix shows. It was supposed to be his unabashed star turn.
When it was finally released in April of 2014, Honest received largely solid reviews from critics, but was met by unenthusiastic fans — many of whom had been infatuated with the array of hits Future gifted to others over the prior 12 months. Despite debuting at No. 2 and eventually going gold, like its predecessor, it came to be seen as something of a failure. But looking back, it has some of his meanest and tenderest songs. The album became a fulcrum on which Future's career turned — creatively, then commercially. A year and a half later, things would be inverted once again.
He and Ciara broke off their engagement amid persistent rumors that Future had cheated. Newly single and lamenting his loss, he married the downward spiral of his personal life to a creative destroy-and-rebuild period, and went on to drop, in the span of nine months, three mixtapes and an album that confirmed him as not only one of the best rappers on the planet, but among the very biggest stars in the genre. He did this not by expanding his already-wide palette, but by narrowing it. He burrowed into the grimmest, gloomiest corners of his psyche, then used a small coterie of producers to light up each crevice.
When it was all over with, Future had done what artists often talk about doing, but seldom execute cleanly: He had spun the lowest moments of his personal life into musical gold. What made this jarring was not only the efficiency with which he wrote, recorded, packaged, and released projects while his life was seemingly in tatters, but also the actual, cavernous depths he seemed to have sunk into. When that furious hot streak culminated, almost three years ago to this day, with a bare, brutalist album called DS2, Future rapped what seemed like the thesis for his life to that point: "Tried to make me a pop star, and they made a monster." The strange thing is, we made him both.
"I'm on a Molly, don't fuck around with them Xans" — Future, 2012
"Down five Xanax and I pray I wake up and forget" — Future, 2015
I don't really know anything about Future's love life, and neither do you. He and Ciara broke off the engagement; she married Russell Wilson; the custody battle over baby Future has, occasionally, turned very ugly. But Future's work seems, basically, improvisational, and if there are long narrative arcs in his music they're identified — created, really — by listeners who pay close attention to Future's tics and impulses on record.
But the pace, tone, and subject matter of the work he released in that October 2014–July 2015 fever made the subtext unavoidable. Monster, the Halloween mixtape that kicked things off, was anchored by the monumentally bleak "Throw Away," which is crude and raw and naked in a way almost no breakup songs are willing to be (at one point he begs his ex to fuck someone else and "get it over with"). That tape was so dark that when Future referred to its breakout hit, "Fuck Up Some Commas," as "a feel-good song," one of his friends should have called to check on him. Beast Mode, which came three months later, was a bloodletting over Zaytoven's pianos, less punishing but so tortured it was nearly spiritual. 56 Nights approached robotic perfection. And for a blockbuster album, DS2 worked with a very limited, very gray emotional palette.
That string of four records is universally seen as the creative and commercial jolt Future needed. Understandably, this led to the glib idea that "happy" Future was less musically exciting and less marketable that post-breakup Future. But it's a little more complicated than that. The music from Monster through DS2 was not only a reaction to the loss of Ciara and baby Future, but to the cool reception that Honest's aesthetic decisions received. The steely singularity of 56 Nights, for example, seems to have as much to do with perceived creative failure as with emotional turmoil. The verses about heartbreak from that period are deeply felt, but Future always seemed more in control over what he revealed about his romantic life than he was about his struggles with substances.
One of the ways to track Future's descent into this personal hell is through the way he rapped about drugs. When he debuted, he seemed to use as one might expect Future to use: occasional self-medication to deal with past traumas and new stresses, with plenty of partying to balance things out. But by the peak (or nadir) of that first phase in his career, things had begun to escalate dangerously. While "Throw Away" seemed obvious as Monster's black heart, the truly enduring record is "Codeine Crazy," a generationally poignant song about drug abuse. "I'm an addict and I can't even hide it."
Similar references began to cloud nearly all of Future's records. On Beast Mode, he rapped about gobbling pills and praying to forget why he was taking them in the first place. Even after the magic started to dry up — on 2016's Purple Reign, for example — drugs would occasionally push him into heartbreaking little windows of brilliance, like the staggeringly painful "Perkys Calling."
But Purple Reign was a marked step down from DS2, and EVOL, a cash-grab album released only a month after Reign, was another steep decline. Thankfully, the rest of Future's post-peak period has not been a smooth down-slope. Last year, Future revived the idea of a Future Hendrix album by releasing, one week apart, separate albums called FUTURE and HNDRXX. The self-titled onewas essentially a trap album, and was marginally more effective than EVOL and had a couple of successes but was mostly Future on autopilot. But the second one, HNDRXX, is that aforementioned bit of Technicolor: an album of pop songs Future purposely glitched up, joyous and tender at times and defiant, piercing at others. It's a near masterpiece, a record that could feasibly be argued as Future's best, despite sharing very little in common with any of his great work since Pluto. The album ends on notes of deep regret about the ends of past relationships, and there are glimpses — see "Use Me" — of absolute emotional exhaustion. And yet it's built on cuts like "Fresh Air" and "Testify," which underscore the text of most radio pop (summer days, sex, opulent vacations) with a subtext of self-improvement. And so the brightness doesn't come off as worry-free tranquility, but as the relief that seemed like it would never come.
With all its forays into pop and R&B, though, HNDRXX is an exception. Future continues to expand those crevices he first cracked wide in 2015; today, his dominant modes as a writer are:
(a) The kind of unflinching, unsparing self-analysis that very few of us are willing to do.
(b) Emotionally stunted man in his mid-30s.
Option B often goes hand in hand with certain aesthetic choices. On albums like EVOL and FUTURE, it's almost as if he's lost the vise grip he once had on that style that allowed him to inject the specific strains of trap music he helped popularize with narrative depth and self-doubt. He now needs a certain type of production to mine things out of himself. That's not unusual for an artist this many records into his career, but it does throw the present into sharp contrast with the Monster-DS2 run, when he could impose his creative will on nearly any canvas.
Simply being past his peak does not mean that Future's receded from the spotlight. In fact, he's had an uncommonly long run at the top, and has outlasted countless imitators who threatened his spot. (This is as opposed to, say, Young Thug, whose brilliant creative highs surpass even Future's, but who never got his style to crystallize into a blockbuster album and has seen his buzz gobbled up by those that came after him.) What's strangest, and saddest, though, is that to listen to the excellent Beast Mode 2 — a revitalization crafted by Zaytoven — is to hear someone who has seemingly resolved none of the issues that plague him: This is a man who has not found peace or balance, or anything, to a careful listener's ears, resembling happiness.