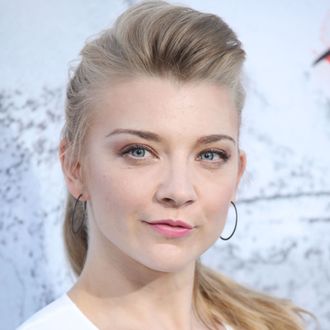 Natalie Dormer.
Photo: Mike Marsland/Mike Marsland/WireImage
In Darkness, a new thriller co-written by leading lady Natalie Dormer, has received mixed reviews in America since its release, with many critics noting the film's multiple, seemingly gratuitous nude scenes and highly charged erotic moments. Dormer has become aware of these reviews — specifically, RogerEbert.com took issue with the "sadistic relish" and THR bemoaned the "gratuitous nudity" — and is now firing back in her own right, saying these elements were an essential part of the feminist narrative flow.
"There has to be sexuality in the power play of a thriller. We have all got bodies, after all. In this film the sex scene, which for me was a lovemaking scene, is a metaphor for the way my character connects with the part played by Ed Skrein," she explained to The Guardian in a new interview. In the film, Dormer plays a blind musician who overhears the murder of her upstairs neighbor. As a result, she begins investigating the crime with the help of a man, played by Skrein, and they soon become embroiled in a bigger international conspiracy. (Game of Thrones reunion alert!) "If the lead characters do not have a clear connection, then it doesn't work," she added. "And on screen it has to be a physical connection between two broken people. That was my intention. In a thriller the protagonists always have to join together somehow and sex represents that connection. If you are being true to the genre, you have to show this."
If In Darkness still isn't your cuppa tea, you Dormer-heads, maybe seek solace with Picnic at Hanging Rock instead.