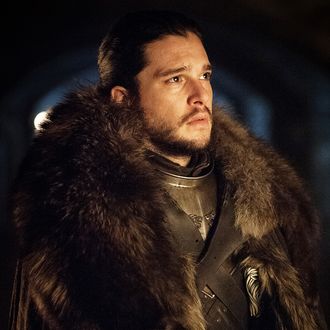 Juhn Snuh.
Photo: Helen Sloan/Courtesy of HBO
Much like the invasion of the North by malevolent ice-demons and their army of undead, we've been waiting for the Game of Thrones' final season for a while, but now it's finally on the horizon. At the TCA Summer Press Tour on Wednesday, HBO president Casey Bloys confirmed that GOT season eight will premiere in the first half of 2019, a hint that the show may return to its scheduling roots. (The show's first six seasons each premiered in March or April, while season seven didn't premiere until July.) A Dream of Spring, indeed!
Bloys also revealed that Jane Goldman's GOT spinoff pilot about the Age of Heroes is still happening, with filming set to begin in Belfast in early 2019. (Production has not yet hired a director or a casting director.) That seems to be the only one of the planned spinoffs moving forward, as all the others are either on-hold, or not happening. If this all seems like too much waiting for you, content yourself with the fact that at least Fire & Blood: Volume 1 is less than four months away.
Maria Elena Fernandez contributed reporting.