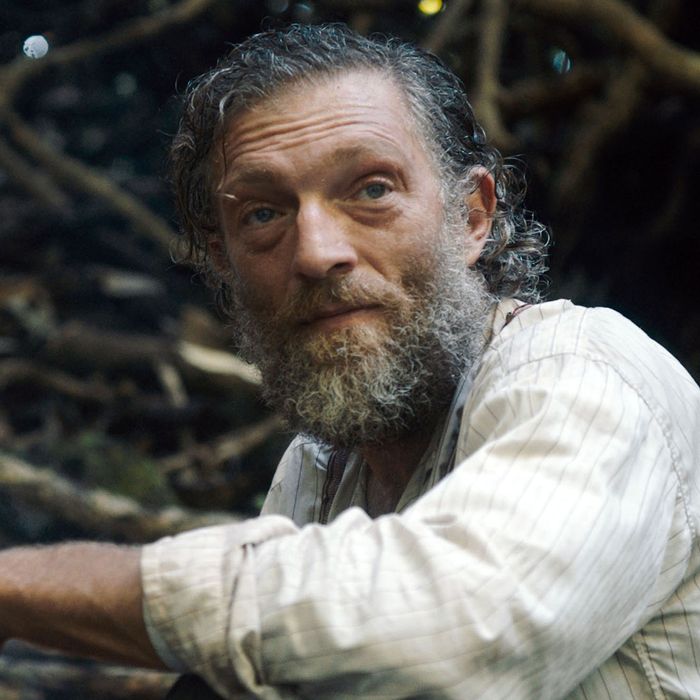 The conceptual dullness of the new French biopic Gauguin: Voyage to Tahiti hit me especially hard, since I was fired up to see those Tahitian pictures after a June trip to Paris and the Musee D'Orsay, where many of them reside. Have you been to a highly-touristed art museum lately? It used to be that if you wanted to get close to study the brush strokes it was a guard who'd ask you to step back. Now, it's people who yell at you for blocking their iPhone photos. The museum's Postimpressionist area would be a great place to get lost, but, like Paul Gauguin, it ends up making you want to flee civilization for shady pandanus glades halfway around the world — preferably without Gauguin's raging syphilis.
The syphilis isn't mentioned by name in Gauguin: Voyage to Tahiti, although Gauguin has an unspecified cough that will obviously be fatal, because in biopics there is no such thing as an inconsequential cough. But as played by the febrile Vincent Cassel, this Gauguin seems too tightly wound for sex. The image of Gauguin the voluptuary eating and screwing and painting naked Tahitian women might be a cliché, but the director, Edouard Deluc, has gone to the other extreme. Although the script is based on Gauguin's own writing, the film presents him as such a gloomy Gus that he might have swapped souls with his onetime pal Van Gogh.
The movie opens in France, where Gauguin is stricken that his oh-so-proper wife won't come to Tahiti with the kids — though I imagine she'd have put a crimp in his lifestyle if she had. He does need her family money, since rich people are finding his latest works a mite unruly. He's also dismayed that none of his fellow painters or acolytes will abandon Paris for distant French Colonial paradises. What Deluc gets right is that Gauguin, like most great artists but few in great-artist biopics, spends most of his time not carousing but sitting in front of canvases. What doesn't come through is how entwined in Tahiti Gauguin's various impulses were. The artist tells a doctor friend, "I paint and draw all day long and live in harmony with everything around me," but you don't see Buddhist oneness in Cassel's face, especially as he ages into someone resembling Fagin. Non-transcendental, too, are composer Warren Ellis's somber cellos and violins.
The islands looks luscious, as parts of them apparently still do, and Deluc frames the sunrises over the ocean with suitable awe. There are a few tactile moments: Gauguin slowly eating a mango; trying to keep his paintings dry amid a tropical deluge; or gazing on his Tahitian mate, Tehura — though Tuhei Adams looks a bit older than her real-life counterpart's 13 years. (Girls were marriageable in Tahiti once they could bear children.) Adams gives Tehura enough of an inner life to make you feel her frustration with being the object of an older man's Edenic fantasies. There are good, intense scenes in which Gauguin locks her up to keep her away from a ripe young Tahitian. But you'd be surprised, watching her burning contempt here, that the actual Tehura wept when he sailed back to France.
It's worth saying yet again that the problem with most biopics isn't that they take liberties with the facts but that they replace the facts with easy-to-digest clichés. Mike Leigh found a happy medium in Turner, telescoping events but evoking the essence of the art in the painter's life. But watching Cassel's egregiously doomed Gauguin, you couldn't imagine the artist's final years. He went back to France; took up with a raucous crowd and a tempestuous, half-Malaysian, half–Sri Lankan young woman who'd end up stealing everything in his apartment but his paintings; got badly beaten up on an expedition to Brittany; went back to Tahiti and took up with another teenager (Tehura would marry in the intervening years); and launched an angry, satirical, irreverent newspaper that made him an enemy of the church until his syphilitic end, when he resided across from the main house of worship surrounded by nude photos and naked women. He might have been in hell but he was also bent on raising it. Here, you just think, "Who put such a pall over paradise?"