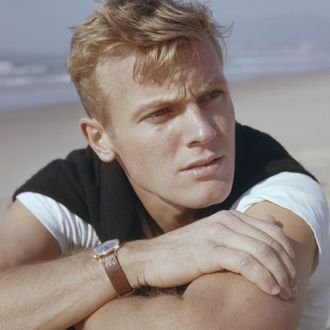 Tab Hunter on a beach, circa 1955.
Photo: Archive Photos/Getty Images
Tab Hunter, a Hollywood heartthrob of the 1950s who came out late in his life, has died at 86, according to a Facebook page linked to the actor. Hunter, who was born Arthur Gelien in 1931, rose to fame in the 1950s with roles as an approachable, all-American boy in movies like Battle Cry (1955) and The Burning Hills (1956) and Damn Yankees (1958). He also pursued a brief music career, landing a No. 1 hit with his song "Young Love." While Warner Bros. publicly pushed Hunter into a pairing with Natalie Wood, Hunter had secret romances with other gay Hollywood actors, including Psycho star Anthony Perkins. Their relationship is set to be the subject of an upcoming J.J. Abrams–Zachary Quinto movie.
Hunter publicly discussed his life as a closeted man in Hollywood in his 2005 memoir Tab Hunter Confidential: The Making of a Movie Star, which was later adapted into a documentary in 2015. Hunter's career had a brief resurgence in the 1980s when he appeared in two John Waters movies across from Divine, but the actor retired from Hollywood later in life, living with his partner Allan Glaser and their horse in Montecito.