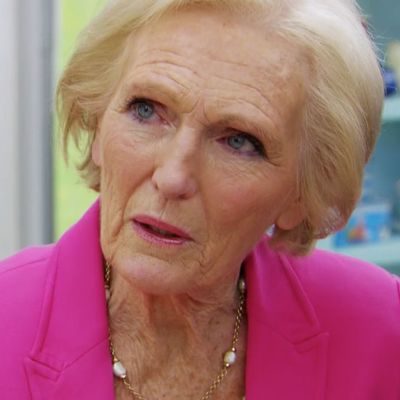 Good morning, good afternoon, good night, whenever you're reading this, wherever you are, and welcome to Pudding Week! If you are confused, may I refer you to last year's Bake Off recap discussion of exactly what constitutes a "pudding" in the U.K., because I have already lost what tenuous grip I once had on the issue.
The signature challenge is a doozy, calling for two different individual-size, flavored sponge puddings with accompaniments, six of each. Last week's dark horse Star Baker Ryan is boldly incorporating three different raising agents — baking soda, baking powder, and self-rising flour — into his sticky ginger and date puddings, to Mary's dismay. Brendan, Sarah-Jane, and John all make sticky toffee puddings, a classic British dessert that is one of my personal all-time faves. (I've successfully made this version at home, if you feel like your weekend could use some hyperglycemia!)
James is honoring his Scottish heritage with clootie dumplings, a phrase that I have a hard time accepting in my heart isn't secretly, deeply vulgar. A "clootie," a strip of muslin, is wrapped around the pudding and creates a "skin" when baked. "Doesn't sound all that appetizing," he acknowledges, but he's nevertheless confident — at least until his dumplings come out of the oven unpleasantly soft and skinless. Two of Danny's jubilee chocolate fondants slide off her tray and onto the floor. She's devastated, with chocolate spatter all over her cute blue Chuck Taylors.
The sticky toffee pudding the judges dig the most belongs to John, who soaked his dates in Lady Grey tea. Paul likens John's raspberry and white chocolate puddings, however, to "chewing on a piece of card." Brendan, meanwhile, wins high praise for his rhubarb, strawberry, and crystallized ginger puddings. Mary Berry is, as always, right, and Ryan's triple-risen puddings prove to have a bitter finish. Danny gamely dusts her smushed puddings with confectioners sugar for presentation's sake, and to her great relief, the judges are sympathetic. In fact, they love how moist the (noncontaminated) sponges came out.
The technical challenge is a Queen of Puddings, which, based on its name, I initially visualize as, like, a pudding rat king. Fortunately, I am extremely wrong. This demanding dessert consists of three distinct layers of custard, jam, and chewy meringue on top. Naturally, the contestants are being forced to bake their puddings in a clear dish, so that no error may hide.
Ryan is concerned because he's made neither custard nor jam before, which, yeah, okay, that's probably a valid reason to worry, especially given that the only instructions the recipe provides for the latter layer are, verbatim, "make the jam." Only Brendan seems unfazed. "There are some advantages to being older. You learn when the setting point of jam is just right," he says, a line that Nancy Meyers could write a whole movie around. Lo and behold, the tent's own disco king comes in first, followed by Danny. Ryan takes sixth and James (who is having a surprisingly bad week!) takes seventh.
The showstopper is one large strudel, either sweet or savory. The delicate pastry must be stretched until wafer thin, then filled with cooked vegetables or fruit, rolled up, and baked. It should finish with a flaky exterior and a succulent interior. The strudel pastry is notoriously difficult to pull off; even Mary admits that, in real life, she'd opt for a store-bought version rather than whipping it up herself. But this is not real life. This is Bake Off, which is better than real life because it involves considerably more butter. John's day is off to a rough start when he slices a finger on the blade of his food processor, but presses on, wearing a glove over the ouchie (technical, medical term).
In working the pastry for his spinach, cheese, and walnut strudel, Brendan has no use for a rolling pin. Instead, he doesn't just roll up his sleeves, but also oils up his arms. He'll coax it thinner and thinner and thinner until he can see right through the pastry to the rose-patterned tablecloth below.
Paul comes over to Sarah-Jane's station and constructively abuses her dough, whipping it repeatedly against the countertop. An excited Sarah-Jane tries to teach this "flicking" technique to Cathryn, who immediately loses grip on her dough and flings it onto the floor. Sarah-Jane, horrified at her part in this tragedy, scoops it up and tries to pick the hair off it, assuring Cathryn that she can still use it. "It's got green carpet in it," Cathryn says. "I'm not serving Mary Berry green carpet." Speaking of carpet: It's a pretty bold décor choice in a tent that is routinely the site of baking disasters!
And speaking of baking disasters: John's glove is now full of blood, dripping onto his arm below. I admit that I'm a squeamish person, but this is objectively serious. Intensive-care consultant Danny leaps in to help, tending to the wound beside a medic. The cut is much deeper than they initially thought, and he won't be able to finish the bake. Get well soon, John!
The rolled-out dough must be two meters long — honestly, done right, it looks like a serial-killer skin suit in progress — but any tears in it could ruin the whole bake. "My strudel's got a hemorrhage. Do I mean hemorrhage? Hemorrhage or hemorrhoid?" Cathryn frets of her roasted vegetable couscous and sheep-cheese strudel. She turns it around to face the opposite direction in the oven, so she won't have to see the burst, then scavenges a stray flake to conceal it.
But Cathryn's strudel is well-received by the judges (Mary calls it, in the nicest way possible, "unusual"), as is Danny's leek, potato, pistachio, and Gruyère strudel. Brendan's strudel — finished with an extracurricular diamond-cut pastry lattice, because why not? — could use more color, but the pastry layers are thin and the flavors are good. The last time James made his strawberry, rhubarb, and ginger strudel, he says, his girlfriend compared it to "a plate of sick." I am sorry to report that she was not wrong.
The delightful Brendan is crowned Star Baker. I can't help but notice Danny ever so slightly frowning — to be fair, not only were her bakes on point, but she stepped away from her station to participate in a medical intervention this week. Surely that should count for something!
Sue really milks the elimination announcement: "The journey has to end this week for somebody, and that person is … nobody!" The judges decided that it wouldn't be fair to send anyone home in John's absence. Instead, two bakers will be eliminated next week.
Says a very relieved Sarah-Jane, "I have another chance to bake again and to prove that I am here for a reason and not just lucky because John cut his finger off." That's a get-out-of-jail-free card that she can only rely on, at most, nine more times.