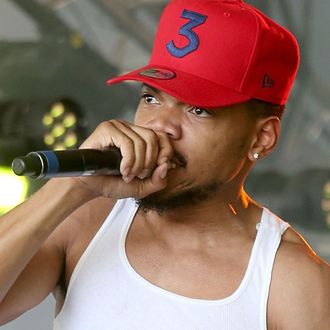 Chance.
Photo: Gary Miller/Getty Images
And the year of the surprise everything continues: Chance the Rapper has announced that he's releasing an album this week. He let the news slip to the Chicago Tribune, revealing no other details about how the project will arrive other than it'll drop "just in time" for his Special Olympics 50th anniversary concert (held on July 21). His last album, 2016's Coloring Book, was an Apple Music exclusive that became the first streaming-only album to win a Grammy. He's not sure now if he'll choose to monetize his work. "I've never been against selling music. Music has value," he says. "I put my music out there for free because I wanted people to see and notice it as a beacon for what I'm doing, in terms of how unorthodox I wanted my approach and my delivery of each piece of music to be." He does, however, still sound to be anti–record labels, saying that his collaborations with bigger artists have been stifled by their labels: "It has been difficult for me to release music with artists who work with the majors. A lot of stuff I've worked on hasn't come out since Coloring Book because it's hard [when collaborating with artists limited by record deals]."
As for his upcoming separate project with Kanye West, which Chance previously teased, he says they made two songs weeks ago during the Wyoming sessions and will revisit that work shortly. "We're up in the mountains around these wild animals — it's very different out there — and we got some music done, and then he asked me if he could do an album with me," Chance says. "I don't know of a timeline on it yet, the trajectory of it, but he's coming here to work on it some more. We've just started making it, but I don't want to manipulate the situation and impose any time frame, because that can hinder you."
Update, 11:30 a.m.: On second thought, don't get your hopes up yet. Chance has tweeted a clarification to the Tribune story saying he's not, in fact, putting an album out this week. But he does hint that there's music coming … whenever that will be. The element of surprise is still alive!