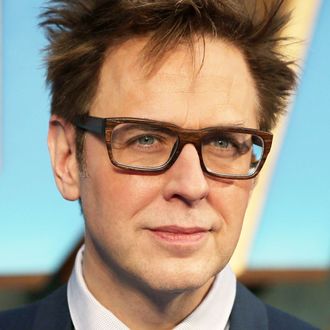 Gunn.
Photo: Daniel Leal-Olivas/AFP/Getty Images
More than a week after James Gunn was fired by Disney from directing Guardians of the Galaxy Vol. 3, owing to offensive tweets he wrote a decade ago that were recently recirculated online, Galaxy's leading cast has published an open letter in support of him. Chris Pratt, Bradley Cooper, Zoe Saldana, Karen Gillan, Vin Diesel, Michael Rooker, Dave Bautista, and Sean Gunn all signed their names on a letter published on their respective social-media accounts this afternoon, stressing that while they're not defending his tweets — which joked about rape and pedophilia — they all believe he shouldn't have been fired.
"Each of us looks forward to working with our friend James again in the future. His story isn't over — not by a long shot," the group wrote, in part. "There is little due process in the court of public opinion. James is likely not the last good person to be put on trial. Given the growing political divide in this country, it's safe to say instances like this will continue, although we hope Americans from across the political spectrum can ease up on the character assassinations and stop weaponizing mob mentality." They also "fully support" Gunn in whatever he chooses to do next, and have been "encouraged" by the amount of people who want to see him reinstated as Vol. 3's director.
Upon the news of his dismissal, Gunn accepted Disney's decision and took "full" responsibility for his jokes. "I have regretted them for many years since — not just because they were stupid, not at all funny, wildly insensitive, and certainly not provocative like I had hoped, but also because they don't reflect the person I am today or have been for some time," he said. "Regardless of how much time has passed, I understand and accept the business decisions taken today." Disney has yet to indicate who'll be taking on Vol. 3's directorial duties.