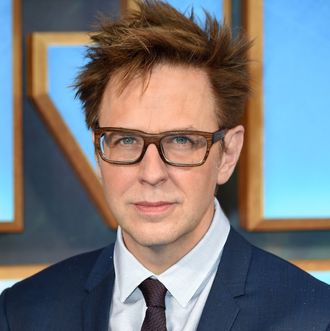 James Gunn.
Photo: Anthony Harvey/Getty Images
On Friday, James Gunn was fired from directing the upcoming Guardians of the Galaxy Vol. 3, owing to the discovery of old tweets that joked about rape and pedophilia. The tweets were recirculated on the internet by alt-right Donald Trump supporters. Gunn, a vocal critic of Trump, both acknowledged that his musings were "stupid, not at all funny, wildly insensitive, and certainly not provocative like I had hope" and accepted Disney's decision. "Regardless of how much time has passed, I understand and accept the business decisions taken today," he said. "Even these many years later, I take full responsibility for the way I conducted myself then."
Dave Bautista, who plays Drax the Destroyer in the Guardians franchise, is far less accepting of Disney's decision to fire his leader, though. "I will have more to say but for right now all I will say is this … James Gunn is one of the most loving, caring, good natured people I have ever met," he wrote on Twitter. "He's gentle and kind and cares deeply for people and animals. He's made mistakes. We all have. I'm not ok with what's happening to him." Fellow Marvel-adjacent actor David Dastmalchian also lamented on Instagram how Gunn is "one of the most amazing people I've ever known."
Disney has yet to name a successor for Gunn. Have any thoughts on the matter, Chris Pratt?
Update, July 22: Gunn has also received the public support of actress Selma Blair, who's encouraging her Twitter followers to sign a petition to get the director reinstated on Vol. 3. "Because if people are punished despite changing, then what does that teach people about owning mistakes and evolving?" she wrote. "This man is one of the good ones."
Update, July 23: More members of the Guardians of the Galaxy cast have commented on James Gunn's firing. Star Chris Pratt (Star-Lord) alluded to the news with a Bible verse:
Zoe Saldana, who plays Gamora, said it's been a "challenging weekend," but signaled support for Gunn.
Two members of the Guardians cast — Michael Rooker (Yondu Udonta) and James Gunn's brother Sean Gunn (Kraglin) — issued their support for the director:
*This post has been updated throughout.