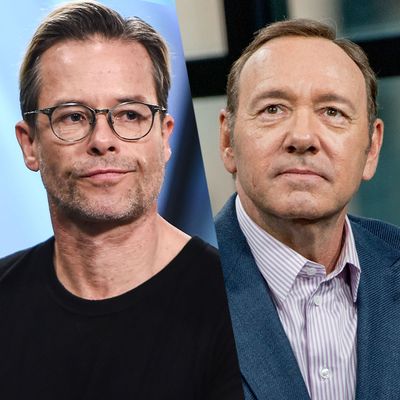 Guy Pearce and Kevin Spacey.
Photo: Getty Images
During a talk on the Australian TV show Interview this week, actor Guy Pearce described his former L.A. Confidential co-star Kevin Spacey as "a handsy guy," "Page Six" reports. This comes after multiple men have stepped forward to accuse Spacey of sexual misconduct — including actor Anthony Rapp, who claimed Spacey tried to initiate sex with him in 1986, when he was only 14.
"Yeah … yeah. Tough one to talk about at the moment. Amazing actor; incredible actor. Mmm. Slightly difficult time with Kevin, yeah," Pearce said when asked about Spacey. "He's a handsy guy. Thankfully I was 29, and not 14."
The Australian actor did not go into further detail about what Spacey's "handsiness" entailed.
Eight employees from Netflix's House of Cards also told CNN in November that Spacey had a pattern of misconduct on the show that "included nonconsensual touching and crude comments and targeted production staffers who were typically young and male." One PA said Spacey put his hand down the assistant's pants while he was driving the actor to set in Baltimore.
Spacey was fired from the show shortly after the allegations came out. But, because it's still Hollywood, apologists have already expressed their enthusiasm to work with him again.