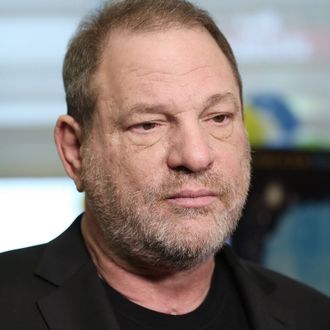 Harvey Weinstein.
Photo: Walter McBride/WireImage
Like a cool teen with no curfew, Harvey Weinstein has been spending a lot of time at his local movie theater lately. As the ex-Weinstein Company boss awaits trial on six charges of sexual assault (he's pleaded not guilty), he's been spotted at Bow Tie Royale 6 Theater in Norwalk, Connecticut. Per TMZ, Weinstein saw Hotel Transylvanian 3, and Mission: Impossible — Fallout. This, of course, brings up a whole host of followups: What did he think of Tom Cruise's bangs? Did he think Henry Cavill's mustache was worth it? Is he using MoviePass these days? (Or like the rest of us, can he not keep up with the service's dizzying news cycle?)
A source at the theater said it was the second night in a row Weinstein was seen there, and that he was jolly, reportedly laughing and "having a good time with the kids in the theater." Just a regular cool guy, hanging around in a movie theater for some free AC — nothing to see here, folks!