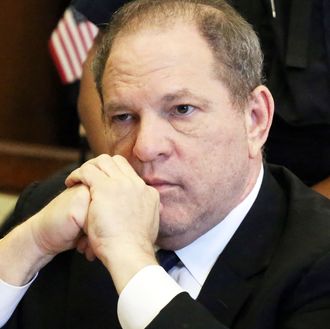 Photo: Jefferson Siegel/Getty Images
Meanwhile, Harvey Weinstein has picked up a new gig. The ex-Weinstein Company boss appeared in court Monday morning to be be indicted on charges filed last week. (Weinstein was accused of a forceful sexual act in 2006; these new charges carry a maximum sentence of life imprisonment.) After the hearing, Weinstein's attorney Ben Brafman said that his client is working as a paralegal on his own case: "Truly bizarre claim from Weinstein lawyer Ben Brafman outside the court: Harvey, he says, is currently working as a paralegal — to him," Washington Post reporter Steven Zeitchik tweeted. He's also at work on other film projects:
After Weinstein was spotted around Scottsdale, Arizona, in May, he was starting work on a documentary about the opioid crisis. He is currently free on $1 million bail.