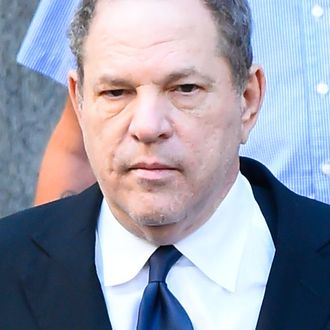 Photo: Raymond Hall/GC Images
On Monday morning, Harvey Weinstein appeared in court and pleaded not guilty to three new counts filed by the Manhattan district attorney. Last week, Cyrus Vance Jr. filed three new charges against the ex-Weinstein Company producer, stemming from a new victim who says Weinstein attacked her in 2006: an additional count of criminal sexual act in the first degree for a forcible sexual act, and two counts of predatory sexual assault. (Predatory sexual assault carries a maximum sentence of life imprisonment.) In court on Monday, according to the New York Times, Weinstein pleaded not guilty.
Also during Monday's hearing, Justice James Burke denied the prosecutors' request to have Weinstein placed on house arrest, instead of just wearing a tracking device. The ex-producer previously pleaded not guilty to three felony counts in New York Supreme Court. After turning himself into police in June, Weinstein is currently free on $1 million bail, and reportedly reading scripts and working as a paralegal.