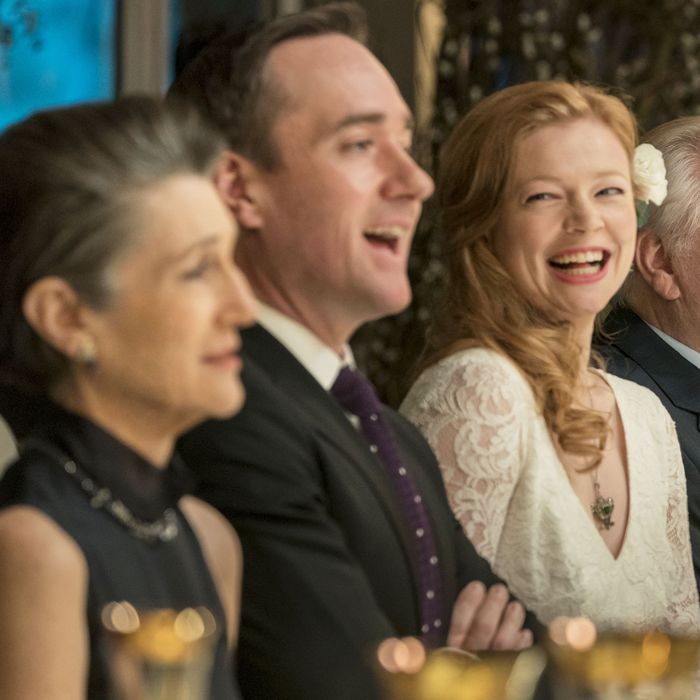 Whether you're judging by its critical acclaim, its towering pile of Emmys, or its impeccable, insult-heavy writing ("You are the worst thing that has happened to this country since food in buckets, and maybe slavery"), Veep is inarguably one of the best TV comedies of the decade. But with the show taking a two-year hiatus due to Julia Louis-Dreyfus's breast-cancer diagnosis — the actress wrapped chemo in January — its unsentimental view of politics has been sorely missed. Fortunately for Veep superfans, there's another HBO comedy that also combines whip-smart dialogue, a killer ensemble cast, and a cynical look at the intersection of politics, corporate business, and mass media: Succession.
Though announced as executive producer Adam McKay's spiritual follow-up to his Oscar-winning financial crisis drama The Big Short, Succession instead resembles Veep thanks to its creator Jesse Armstrong (and two Veep veterans in the writers room: Tony Roche and Georgia Pritchett). Besides co-creating the cult classic Peep Show, Armstrong worked with political comedy genius Armando Iannucci on the BBC comedy The Thick of It, its movie spin-off In the Loop, and the first season of Veep. Like these three shows, Succession is about the worst people being given control of the most puissant tools one can wield. But unlike those workplace comedies, the world of Succession is set in a business you're born into and can never truly escape.
The plot of Succession is simple enough: Brian Cox plays Logan Roy, the aging rags-to-riches founder of media conglomerate Waystar Royco, who decides to step down in favor of his son Kendall … until he doesn't. What would merely play out as a power struggle between father and son becomes more complicated when Logan is weakened by a brain hemorrhage, leading to a Machiavellian battle between Kendall, his three siblings, their mysterious stepmom, and a cabal of corporate rivals, all of whom have been taught by the elder Roy that anything less than ruthless is for pathetic losers. Sounds hilarious, right? Succession, which replaced Veep's cinema vérité camerawork for cinematography that looks as expensive as a share of Waystar Royco stock, wasn't done any favors by its many sweeping helicopter shots of Manhattan and foreboding conversations in flickering dens. If someone walked in while you were watching Succession, they might assume it's a George Clooney thriller. But don't let its look or its hour-long runtime fool you: As Veep keyed in on American politicians' focus on improving their own lot in life instead of the people they serve, Succession lampoons the infighting publicly displayed by the Murdochs, the Redstones, and the Trumps on the few media outlets they don't control. And the show is able to do it so effectively because of its Veep-like ensemble cast of sharply drawn assholes.
The aforementioned Kendall (Jeremy Strong) is a recovering addict whose daddy issues make Donald Trump Jr.'s look solvable with a firm hug. Kieran Culkin plays youngest son Roman, whose penchant for emotional vacancy makes him Logan's favorite son. Unfortunately for Roman, he's neutered by a self-abuse fetish that began as a child when Kendall locked him in a cage and fed him dog food. (At least, that's the non-consensual, non-chocolate cake version that Roman misremembers.) Logan Roy's oldest son, Connor (the always underrated Alan Ruck), escaped New York years ago for the peace and tranquility of his apocalypse-proofed compound in New Mexico, but he too is ready to claw back into the family business with his dulled talons.
Then there's Siobhan, known to her family as Shiv, the only daughter of Logan and clearly the smartest of the quartet. Coolly played by Australian actress Sarah Snook, Shiv starts the season as a political consultant who helps elect a Hillary-type figure to the Senate. Her role in the season is thinly drawn at first, until she decides to join the campaign of populist politician Gil Eavis (Eric Bogosian), a Bernie Sander–ish figure whose favorite target happens to be a Fox News facsimile owned by Waystar Royco. Whereas Logan starts the season defending his company's portcullis from besieging blood princes, he later realizes his own daughter is attacking his flank with something worse than patricide: altruistic media regulations.
It's these of-the-moment story lines about the sordid coupling between politics and business where Succession reveals itself as a true heir to Veep. While the latter predicted everything from the rise of a bumbling thin-haired-and-skinned press secretary to golden showers, Veep, like many political comedies, is now hampered by the difficulty of writing original comedy about Trump's America. How can you write fresh plotlines when every morning's headlines brings stories that would've been quashed in its writers room? Comparatively, Succession's business-focused plotlines feel green, and not just because they revolve around money. In episode five, "I Went to Market," the writers cook up a story that parallels the Sinclair Broadcast Group's Orwellian use of its army of local newscasters. In the episode, Kendall paints his father's planned purchase of local news stations as proof that he's both out of touch and not able to make sound decisions due to his stroke. But we know all too well, thanks to Timothy Burke's video compilation of Sinclair newscasts, that Logan knows exactly what he's doing.
Another very current story line is carried by hilarious supporting standouts Tom (Matthew Macfadyen) and Cousin Greg (Nicholas Braun), the latter of whom will remind Veep fans of Jonah, if he was a six-foot-five abused shelter dog with no self-confidence. After proposing to Shiv, Tom's reward is a promotion to running the cruise lines division, where he immediately learns about the company's long history of multi-million-dollar sexual-harassment settlements. Lucky for Tom, Cousin Greg is willing to do anything to move up in the family, even if it means spending his Thanksgiving dinner shredding evidence of these financial arrangements. While not as shockingly prescient as the Sinclair story line, it remains dreadfully relevant as new exposés, like the recent allegations of CBS chief Les Moonves's sexual misconduct, pop up seemingly every month.
With Succession wrapping its first season next Sunday and last week's announcement that Veep's final season won't premiere until April 2019, there's no better time to jump on the bandwagon for this imminently bingeable (and already renewed) story about a family that mixes the worst qualities of the Murdochs and the Bluths. Like Veep did to The Thick of It, one of the ways Succession improves on its spiritual predecessor is by simply existing in a more terrifying climate. So take a dozen hours or so to familiarize yourself with the Roy family, or as Roman Roy accurately calls it: "The shit show at the fuck factory." Unlike the other billionaire scions and patriarchs who have obstinately occupied our screens in perpetuity, you won't want to shut these off.
An earlier version of this article incorrectly stated that Veep was first made as an ABC pilot. In fact, the ABC pilot was an American remake of the BBC comedy, The Thick of It.